Cape Town becomes global digital nomad destination

Already renowned as a global tourism and investment destination, Cape Town is also becoming one of the best cities in the world for digital nomads.
In July 2021 the South African city placed 16th on a list of 71 countries identified by global housing rental platform Nestpick as a mecca for globe-trotting remote workers, besting New York, Athens and Barcelona for cost of living, infrastructure, leisure activities and overall liveability.
It was also ranked 42nd in the world on international travel website Big 7 Travel's "Best Cities for Remote Working" list, alongside countries like Germany, Argentina and Indonesia, being noted for its digital access, co-working spaces, friendly expat communities and the fact that it offers a Digital Nomad visa.
This comes on the back of impressive financials recorded by the Western Cape, the province in which Cape Town is situated. In 2021, the province contributed £33-billion (R648-billion) to South Africa's GDP of 229-billion (R4.5-trillion) in Quarter 2, with Cape Town traditionally contributing 72% of the provincial GDP annually.
Despite the challenges of the pandemic, Cape Town has proved to be a beacon of resilience and adaptability, particularly in the property market.
By the end of June 2021, its residential property was valued at more than £60.5-billion (R1.229-trillion in South African currency) according to the Cape Town Housing Market Report 2021.
The city is now also South Africa's top-rated region in the office market, property broker surveys by South Africa's First National Bank indicate, while the digital nomad trend has grown exponentially, luring both foreign and local workers in large numbers.
CO-WORKING ECONOMY
The co-working economy gained momentum three years ago when Cape Town emerged as one of the world's recognized Tech Cities and a hub for technology development and innovation. 
As this trend gains greater traction, so Cape Town is seeing a proliferation of lifestyle-orientated, mixed-use developments geared towards digital nomads frequently also found in global destinations like London, Chicago and Melbourne.
The city's central business district (CBD) is in the perfect position to capitalize.
This vibrant commercial hub boasting almost 3 000 business entities, including 19 co-working spaces, 63 hotels (including backpackers and lodges) and 77 residential buildings, lies at the epicenter of Cape Town's success as an economic and lifestyle hub, and boasts magnificent views of the iconic Table Mountain and is only a short distance away from some of the most breath-taking sea vistas on the planet.
What is striking is how co-working spaces in the CBD have held their own during the pandemic. While employers and commercial landlords grappled with the great exodus of office workers from centralised offices, the decentralisation bolstered the co-working sector.
By the end of 2020, there were 16 co-working spaces in downtown Cape Town – only one less than in 2019. That number grew to 19 in 2021 as employers found increasing value in the flexibility and shared cost options offered by these spaces. The camaraderie, networking opportunities and "best of both worlds" approach have struck a chord, and are now key elements in Cape Town's appeal to digital nomads.
MICRO DEVELOPMENTS
A number of developments favouring the micro-living and co-working trend have emerged in the CBD.
Rob Kane, the chairperson of the Cape Town Central City Improvement District (CCID) – a public-private partnership and non-profit organisation that provides top-up services like safety and renewal projects in addition to those rendered by the City of Cape Town in the CBD – says Cape Town has an enormous opportunity to attract talent from all over the world, particularly since 52 % of South Africa's fintech start-ups are located in the city.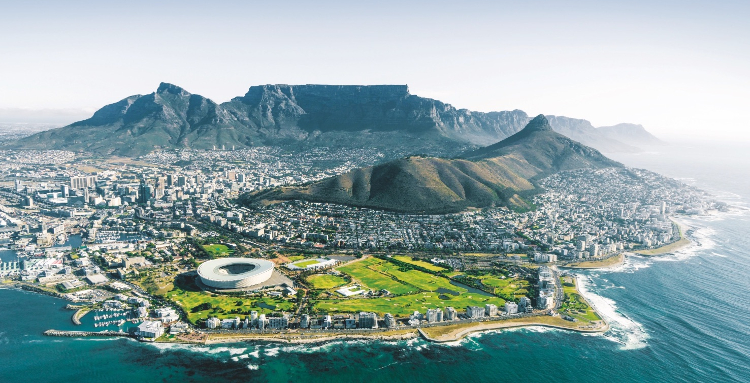 Kane, who is also the CEO of the Boxwood Property Fund, one of the larger office landlords in the CBD, says his company has embarked on a process to buy run-down office buildings and upgrade them, transforming "utterly faceless, uniformly boring" offices into "warmer, more tactile and softer work" spaces, believing that if workers were to be enticed back to the city, they needed a more vibrant atmosphere.
"Sophisticated but quirky" is the new mantra, with the buildings now more people-focused and displaying bold, fun colours. This is the direction the CBD is heading, especially in light of digital nomads' interest in Cape Town.
DIGITAL NOMAD VISA
With the South African government forging ahead with plans to introduce both a start-up and digital nomad visa for digital nomads and remote workers, it is clear the phenomenon is here to stay, presenting myriad opportunities for foreign investors.
The visa, the first to be offered by an African mainland country, is proposed to cater to digital nomads settling in the country for between three and six months at a time. South Africa's Department of Home Affairs has suggested the visa will also have attractive provisions for dependents (like family members) of visa applicants, while a minimum salary requirement of around £2 300 is reportedly being discussed.
The positive sentiment is undoubtedly driving Cape Town's property gains as well as the emergence of a new breed of young, entrepreneurial and urban-focused property developers who have seen the value of Cape Town as a destination of choice for the world's digital nomads.
COMMUNITY IS KEY
Murray Clark, the CEO of Neighbourgood, a next generation property development and management company that partners with Cape Town landlords to redevelop buildings into blended all-inclusive living and working spaces surrounded by entertainment-led amenities, believes digital nomads want workspaces that are more residential in nature, and where a sense of community is central. 
"For us in Cape Town, where we are having a lifestyle city digital moment, it is all about building a culture of community. It's not just renting an office or home, but renting a full access digital passport to the city."
He notes that digital nomads have flocked to the city largely through word-of-mouth, Google and social media.
With the CCID having worked tirelessly during South Africa's pandemic lockdowns to provide a secure, clean and stable inner city in which stakeholders could continue to do business, Clark has now taken a 1,400 m² building in the most vibrant street in downtown Cape Town, which had been on the market for six months, into the Neighbourgood fold – the first co-working space that does not have a residential component within his portfolio.
What Clark, his wife and co-founder Kim, CEO St John Gardner, and his team have achieved in the space of only 18 months is something special.
The £4-million Neighbourhood East City (formerly The Townhouse Hotel) and the £3.3-million Neighbourhood Reserve (formerly African Banking Corporation) in the inner city are booming and changing the face of the Cape Town residential property market by providing flexible, fully furnished living and working spaces that have superior amenities such as on-site community managers and concierge services.
The developments speak to young professionals who are looking for an integrated inner-city space with flexible lease terms, and that allows for maximum productivity and collaboration – with a sense of community thrown in for good measure.
A residential space, The Shiro (meaning "calm" in Japanese), will also be opening in Harrington Street in the heart of the CBD at the end of 2022. Digital nomads are able to lease from as little as two days to a year, a "super flexible" arrangement, according to Clark.
Clark has seen how such spaces have transformed entire neighbourhoods in the US, UK and Australia, and is determined to replicate their success in Cape Town and beyond.
"We've observed a lot of companies globally and tried to take the best of the lot. Our market, like our concept Neighbourgood, is evolving as well."
SOCIAL CLUB
Clark loves the fact that these developments are catering for young people on a budget. In a sense, the model operates like a social club where members have access to a number of amenities across living and working spaces. The success downtown is underpinned by the fact that in 2020/21, the total value of CBD property investments was estimated to be £337 million.
"Large cities have been around for over 2 000 years and the essence of their longevity is that people want to gather," Kane says. "The lifting of the night-time curfew at the end of December 2021 ushered in the start of the revival of the night-time economy, bringing an influx of restaurant, bar and club patrons back into the Central City," Kane says.
"This, coupled with the return of office workers and the steady recovery in the tourism industry, is behind the continued recovery in confidence among our inner city retailers, tenants and residents."