Liberian war-time drama to hit California stage
An award-winning play set in Liberia is slated to start showing from March 7-19 at the Curran theatre in San Francisco, California, the USA.
'Eclipsed' is the story of five extraordinary women brought together by upheaval in their homeland of Liberia. They forge a close-knit community, one that inspires them to feats of increasingly greater strength.
Written in 2015 by playwright Danai Gurira and directed by Liesl Tommy, the play made waves on Broadway as the first cast, director, and playwright composed entirely of female artists, fitting for a production that so stunningly chronicles the experiences of a group of very resilient women.
The Associate Press writes that "The play is set during the end of Liberia's 14-year civil war, which ended in 2003. Former Liberian President Charles Taylor and rebel groups opposed to him including LURD – Liberians United for Reconciliation and Democracy – were accused of atrocities, including murder, mutilation, rape and using child soldiers.
"Eclipsed' takes place in a bullet-ridden hut on a LURD rebel base headed by a commanding officer, the unseen leader called "CO." He has captured two "wives" – Saycon Sengbloh plays Wife No. 1, clinging to the status it offers, and Pascale Armand plays pregnant Wife No. 3 as a girlish woman insecure of her looks. Wife No. 2 (Zainab Jah) has left to join the soldiers.
"Although there are no men in "Eclipsed," their presence is everywhere – from the military fatigues the women wash and dry to their stomach-churning stories of rape and the moments when the "wives" stand cowering until one is chosen for sex and goes to her fate offstage. The future of women is shown blocked in this play – hence the title. It is clear who is doing the blocking.
"Time and identity is fuzzy here. Trauma means few of the women know their name or where they come from. The Girl is a newcomer when we meet her and wants to reclaim their identities. "I just tink we should know who we are, whot year we got, where we come from," she says.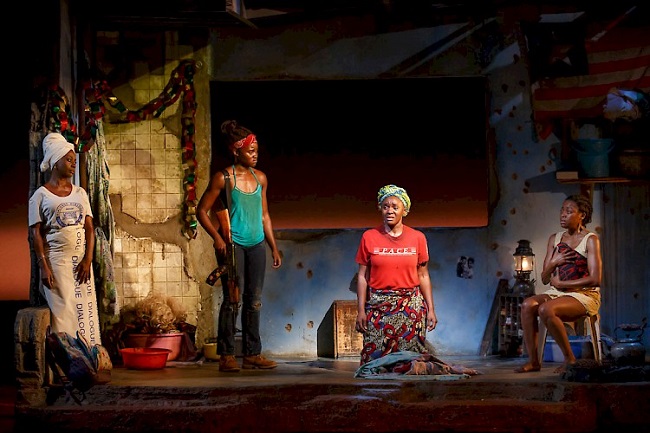 "It is a play that explores the battle for The Girl's soul – and, in a sense, of the country itself. The choices are stasis and subjugation in the kitchen, joining the savage male world as a soldier, or embracing the lofty hope of peace, as embodied by a visiting activist, played by Akosua Busia, whose role is not as complex as the others and so sounds somewhat dissonant.
Theatrical producer Carole Shorenstein notes "Eclipsed is emblematic of my mission to present bold and daring work at the new Curran. Through this historic play we bear witness to a cultural moment that speaks not only to audiences, but also to the world."