Pres. Sirleaf: I will complete my development agenda
During her recent one-day state visit to Nigeria, Liberian President Ellen Johnson Sirleaf granted an interview to the Nigeria Television Authority (NTA) after she held bilateral talks with her Nigerian counterpart Muhammadu Buhari.  
Minister Counselor for Press and Public Affairs at the Liberian Embassy in Abuja, Nat Bayjay, transcribes below the full exclusive interview. The NTA's TV presenter Claire Adelabu Abdulrazak conducted the interview in which the Liberian leader responded to a wide range of issues, including completing her development agenda, the country's preparation for the next elections, Liberia's resumed role among nations, Liberia-Nigeria relations, global economic and political issues, among others. 
NTA: We have Madam Ellen Johnson Sirleaf, President of the Republic of Liberia. We say thank you very much for your time. 
President Sirleaf: Thank you very much. I'm pleased to be here. 
Let's quickly start with your visit to Nigeria. What exactly brought you here? 
I came to talk to President Buhari, to express to him on behalf of the people of the Republic of Liberia our appreciation for the many long years of friendship between our two countries; to consult him on some of the work operations going in our regional institutions such as ECOWAS and the African Union; to brief him on Liberia's progress and challenges and just to ensure that I continue to be able to reach out to him so that together working we can strengthen and deepen the relationship between our two countries and our two peoples. 
So this is just a friendly visit if you can say? 
Yes.
Let's move on now with other issues. Liberia has come a very long way since the war years. Your Excellency has invested a whole lot into reconciliation. Looking back, can we now safely say that the drums of war will no longer beat in Liberia?
I am very assured that there will be no more war in Liberia. We will continue to have our differences. We will continue to have skirmishes. But I think no Liberian will like to see our country go back to war because every Liberian knows how devastating and how damaging war is. We are still trying to build on, to correct the ruins of war. So, no, there will be no more war for Liberia.
That's good to hear. Now, the rebuilding process is a process that has gone over 10 years. How would you describe post-conflict Liberia?
We've made a lot of progress. We've re-established and strengthened institutions. We've done work on new laws, new strategies, new policies. We've restored basic infrastructures—both economic and social—including roads, power, ports, education, health. So we've put in all the basic fundamentals for the rebuilding. Liberia has changed since 2005. We still have a long way to go. We continue to work at it and hope that this will be done. The process of rebuilding is a long one. It's a continued one. We expect that Liberia will continue to rebuild until we get back to meet the aspirations of our people.
This is the tail-end of your administration, your second term. You've invested enormous resources—both human and infrastructures—in rebuilding Liberia.  Will you say that Liberia is in the position now to join the contemporary development process that is taking place as other West African countries are doing right now? 
Liberia is ready. Liberia already has resumed its rightful place in nations. We haven't reached the level of development as many of our sister African nations. But we've put in all the basic fundamentals to be able to achieve just that. And so it will take time. We will continue to make sure that our peace and stability get attention. And after that, our potential: we have economic difficulties like many other countries because of global commodity prices but Liberia also has great potentials. Liberia is indeed a member of the African Community, the ECOWAS Community and I think it's taking its place both economically and politically.  
Liberia was one of the ECOWAS countries devastated by the Ebola crisis. What is the situation there today? Do you think this serves as a springboard for West African countries to revisit their health care systems?
Definitely. I mean Ebola was a devastating experience for Liberia.  It was a terrifying experience for Liberia and the other affected countries. It did expose the weaknesses of our health delivery systems. But as you rightfully said, it provides the opportunity to be able to rebuild on those systems. And that's what we are trying to do. And one thing I'm very pleased about it is that we feel that if ever there was any return of Ebola, we now have the capacity to respond effectively and to contain it. We hope there won't be any recurrence but if in the unexpected circumstance that happens, we will have a proper response.
Let's look at agriculture. This is one area that many governments in Africa hinge on. That's an area of priority, even here in Nigeria. What is your government's interest in agriculture? We understand there was an initiative by your government in this regard.
Well, we are now beginning to put a lot of emphasis on agriculture. I will have to say that we didn't give that much to it because Liberia has always depended on the extractive industries and on rubber, of course, our main traditional commodity. But today, through our diversification program we want to make sure to pay attention to the sector and not only to plant other tradition ones like oil palm and cocoa and coffee but also food security.  We have been trying to produce the food that we eat; and in all cases, trying to make that sure that we have the value chain to add value to that. And so agriculture today is our main priority. It's the center of our diversification plan.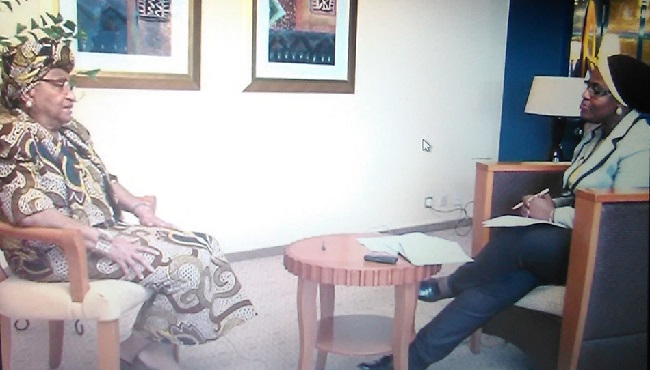 The recent prediction coming from the International Monetary Fund is a positive one for Liberia. It did predict that things may begin to look up for the economy of Liberia. But it might be tough, given of course the global dynamics; the global up rise market especially as it affects commodity prices and your mining sector. How is that affecting public sector spending in Liberia?
Just to give you an example, because of the downturn that we are experiencing we are now going a process of recasting our budget. It's going to mean being able to reduce some of our levels of expenditure. But we also want to do it in a strategy way that it will not affect the areas that are meant to enable us grow again. It's difficult but you know that's what life is all about: being able to meet the challenges when difficulties appear and being able to take the responsive measures that will enable you to get past them.
You warned Liberians recently to get tough for harder times. But it's not just Liberia alone. The whole West African region is struggling economically. Now, isn't it time for better economic performance? There seems to be lapse in the intra-regional trade. 
No, I wouldn't say this is something that's for our region. No. The global downturn is global. If you look at what's happening in Europe, they are facing some of the same difficulties. Some of the major economies like China, are facing the same difficulties. So there was a global contraction that started in 2008. We haven't yet recovered from that. Many of the emerging economies are also being very competitive with the more matured economies.  And that readjustment and re-aliment of global economic power is ongoing. Supplies have in many of the many commodities such as iron ore, and oil, far off paced demand because so many countries have now been able to increase their level of production. So there's a general readjustment of the global economy that is taking place. And these countries have to find where their natures are, where their competitive advantages are. And then build upon that to be able to stabilize as a first measure and then to be able to grow again based on their own diversification efforts. 
What does Your Excellency think about the proposals of EU-Partnership Agreement? Some ECOWAS Member States have already signed it.  Is it viable, given the dwindling economic situations in most of the states? 
Yes, it's time that we close that. For over 10 years we've been talking about meeting agreement with the European Trade Agreement. And I grant you that some of the arguments against that is that we will be opening our markets. And this will enable us to have a flood of some of the products coming more from the more developed countries, not only from developing world but more developed among ourselves. But like you said, some countries have already signed the European Trade Agreement. And it's time that we all sign. And we all try to adjust in such a way that we protect our infant industries and we find a way to ensure that we promote regional integration so that we can make more economies, especially for the small states in West Africa.
You've been a strong advocate for women's right as well as better education that to provide a better future for the people of West Africa. What do you think of the level of participation of women in politics, especially in West Africa?
We are still far below where we expect it to be. But we are getting stronger. Women are beginning to vie for leadership positions throughout the society, not only in politics but in all areas of national endeavors. I think we will see more of that, more women in parliament, more women in all areas. And I think it's a good thing. I think the time has come for that.
I ask the question, because even right here in Nigeria, the usual reason given is that women are enemies of themselves. The usual example is always cited of the previous election where the only female candidate here got just one vote. 
It's false to say women are enemies of themselves because women do vote for women. You know that people are people. Men and women are people. Sometimes it depends on upon how you will be able to capture their interests and imagination and how they will be able to judge your visions and how you will be able to go out there and fight for it. And I believe more women are doing just that. And more women are winning. So, that's a falsity that women don't vote for women. Women do vote for women and I think you will see more of that, particularly when you have women leaders who begin to stand up, who begin to perform and who become role models.  And then you will see that what became to be a difficulty will turn around very quickly.
Your Excellency, this is an interesting one, I discovered. You've established your mark as a crusader of truth, no matter the situation. We understand you gave a very powerful address during one of your convocation addresses recently. In line with that, what do you think about the sit-tight syndrome of most African leaders? Most African leaders just sit and sit and not giving way for even successions for the younger generations to take positions of higher authorities. 
I don't share with you. I believe that African leaders are making ways. I mean look at so many countries. Women are really being promoted. Women are taking positions. In many places, women have higher levels of representations and participation in a lot of places. And look at young people. Look at the composition of young people in government today. The young people are virtually in charge. So that's an old statement that needs to go away. It's not true.
Nigeria invested a lot during the conflict in Liberia. What exactly is the situation back in Liberia at the moment in terms of the socio-economic relations between both countries?
Liberia and Nigeria have a very strong relationship. As a matter of fact, Nigeria helped to restore peace to Liberia. That's one of the things we always thank the Nigerian people for.  They've trained our new professional army. Our first post-war army chief of staff was a Nigerian.  Today, the largest contingents in the peacekeeping force are Nigerians and they are well respected. And so, that relationship is very strong. I hope we can increase it in terms of better trade relationship, better investment relationship and that's one of the reasons why I was trying to just exchange views with President Buhari earlier today.
Finally, you have about two more years to the end of your last term. Are there any plans for elections, any succession term? What is the political situation at the moment in Liberia? 
We are preparing for elections much too early. I have some time on my hands and I'm going to concentrate on trying to complete my development agenda. And then ensure that we do have peaceful, free and fair election that is managed properly and that the Liberian people's will will prevail in the election of the next leader. And I will have a say. I will make sure that I promote and support the person who I want to succeed me. 
Your Excellency, President of the Republic of Liberia, we will like to thank you very much for your time.
President Sirleaf: Thank you.