Rajoelina wins 2023 Babacar Ndiaye Super Prize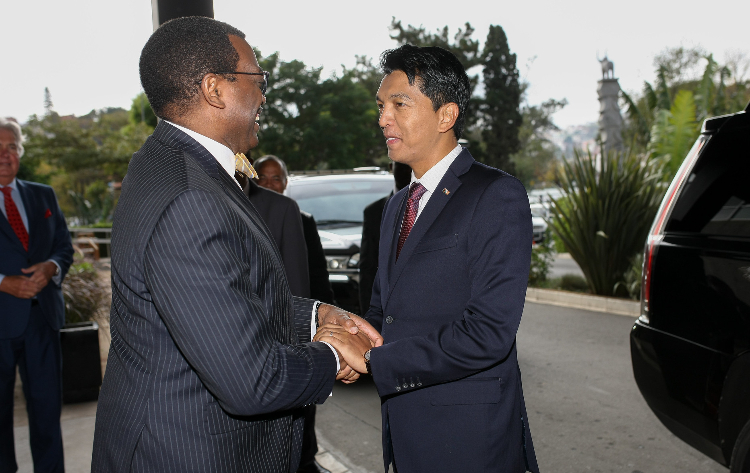 The Africa Road Builders Selection Committee has named Madagascar's President Andry Rajoelina, the winner of the prestigious Babacar Ndiaye Trophy, for his commitment to infrastructure development in the island state.
He succeeds Tanzanian President Samia Suluhu, who won the award in 2022.
According to a press release by the committee, members chose President Rajoelina at a meeting held in Dakar on 28 April "for his personal leadership, commitment and investment to provide Madagascar with mobility infrastructure fully aligned with the Sustainable Development Goals."
The committee cited the construction of the Iarivo ring road, the highway encircling the capital Antananarivo, as the symbol of sustainable mobility infrastructure built by the Malagasy leader.
The highway has pedestrian and cycling lanes alongside the roadways. It also has secure bus stops and garbage drop-off points.
The works also include the expansion of Iarivo airport, including facilities for people with reduced mobility and improved car parks. Rajoelina's investments also span strengthening transport connectivity in rural areas.
"President Rajoelina will receive his trophy on 26 May on the sidelines of the Annual Meetings of the African Development Bank Group in Sharm El Sheikh, Egypt", according to the press release.
Sponsored by the African Development Bank Group, the Babacar Ndiaye Trophy, also known as the Super Prize, is awarded by Acturoutes, a platform providing information on Africa's infrastructure and road network and the organization Media for Infrastructure and Finance in Africa (MIFA), a network of African journalists specializing in road infrastructure.
The award was created in honor of Babacar Ndiaye, president of the African Development Bank Group from 1985 to 1995.
Each year, the Africa Road Builders Selection Committee assesses ambitious realized projects that impact the mobility of people in Africa.
Past winners of the award, since its launch in 2016, were Heads of State from Morocco, Zambia, Côte d'Ivoire, Ethiopia, Gabon (2016), Senegal, Rwanda (2017), Kenya (2018), Gambia (2019), Egypt (2020), Nigeria (2021) and Tanzania (2022).