Sweden: Liberian association to launch branch in north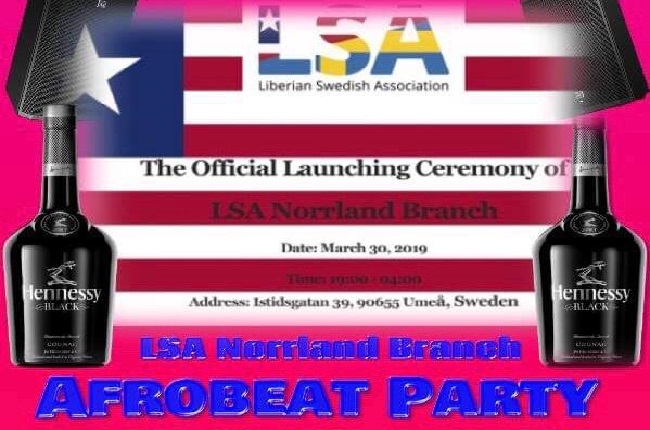 The Norrland Branch of the Liberian Swedish Association (LSA) will be launched on Saturday, March 30 at Istidsgatan 39 in Umeå, beginning at 19:00 and climaxing with a grand dance.
This comes after several months of collaboration between Liberians residing in the north of Sweden and the leadership of the LSA, headed by David Ford.
According to info, the occasion will be graced by the presence of Mr. Ford, LSA Vice President Koo Yelegon Joseph and other members of the new leadership.
The ceremony will include the swearing in of an interim leadership, with Weah Ephraim Harris as chairman, to take the branch to election.
The night will climax with a grand party with DJ Sporting spinning hit music in Afro-beat, dance-hall, reggae, oldies from the 90s, etc.
Ford calls on all Liberians to make the day a memorable and historic one by participating in the event, noting that the branch will serve as an extension of the LSA in the northern communities from Sundsvall to cities further north.
"All Liberians from the LSA branches in Goteborg and Malmö, and Liberians living in Stockholm and other parts of Sweden, and supporters of the LSA are invited to attend the occasion and be part of LSA history making," noted a message from Ford.
Speaking to Nordic Africa News, Weah Ephraim Harris, the LSA Norrland Branch interim chairman, said this is just the beginning and that they decided to get together as it is better to build a good community.
Harris said he looks forward to enjoying the support of Liberians living in the north of Sweden, noting that there are a lot of Liberians living in the region.