Leaders urge Egypt to free Al Jazeera journalists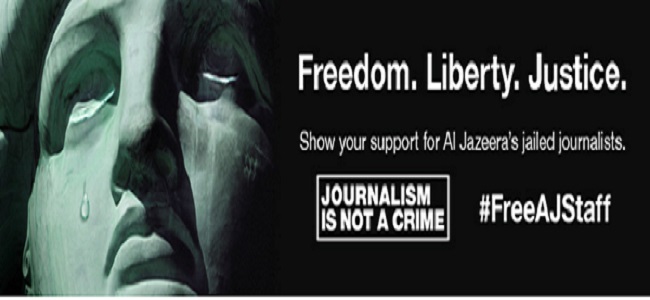 World leaders at the United Nations General Assembly (UNGA) have highlighted the importance of press freedom and called on Egypt to release the three jailed Al Jazeera staff.
The wrongful imprisonment of Baher Mohamed, Peter Greste and Mohammed Fahmy was raised by US President Obama in his first meeting with his Egyptian counterpart Abdel Fattah el-Sisi.
According to the Deputy National Security advisor, Ben Rhodes, Obama reminded the Egyptian leader of his duty to human rights, including the rights to free speech and the rights of the three jailed Al Jazeera journalists. Rhodes said: "The president expressed his view that those journalists should be released."
President Obama's emphasis on releasing the men follows a similar meeting between Tony Abbott, the Australian Prime Minister, and Sisi for twenty minutes. After the meeting, Abbott said: "I think he (Sisi) will do his best to be helpful."
At UNGA, similar calls for Egypt to release the three journalists were made by the British Foreign Secretary Phillip Hammond, who told Al Jazeera: "On the question of Al Jazeera journalists, I've raised this question personally with President Sisi. I raise it every time I see Foreign Minister Shoukry. The current situation is that the journalists have, as I understand it, appealed their convictions and that means this remains at the present time a judicial process. And we have to respect the separation of judicial and executive power. Once that judicial process is complete, if that sentence still stands, we would look to the executive to intervene and ensure they are released."
Somali president Hassan Sheikh Mohamud told Al Jazeera that he'd traveled with Peter Greste and been interviewed by him. "He was a very nice guy… He was not politicized; he is a professional journo…  I know he doesn't deserve to be in prison."  
He added, "For us in Somalia, we are very much committed and believe in the independence of the media and their role in the changing world of today. We politicians are not always happy with the way journos express what they see as a reality on the ground – but even then I believe we need to be very tolerant to them." 
In a campaign to increase even further awareness of the jailing of the Al Jazeera three, an advert was placed in The New York Times and Times Square New York to remind the Egyptian leader and other officials that the three men have been arrested, detained, charged and sentenced for just doing their job of honest, free and fair reporting.
Australian Peter Greste, Egyptian-Canadian Mohamed Fahmy and Egyptian producer Baher Mohamed were convicted in June of aiding terrorism and spreading false news that portrayed Egypt as being in a state of "civil war." In a case that sparked international outrage, Greste and Fahmy received seven-year terms, while Mohamed was sentenced to 10 years. 
Since their arrest in December 2013, Al Jazeera has received international support calling for their freedom from human rights organisations, news networks and various governments.

On social media, the advert placed in The New York Times alone gave 800,000 impressions on Twitter in the first five hours.
Commenting on president Obama's call for the release of the Al Jazeera three, Al Jazeera spokesperson Osama Saeed said: "For nine months since the arrest of Baher Mohamed, Mohammed Fahmy and Peter Greste, world opinion has stated that these men are innocent and have committed no crime, yet nearly 300 days later they still languish behind bars. Al Jazeera welcomes the direct involvement of President Obama and Prime Minister Abbott by reminding the Egyptian authorities that it is their moral duty in the name of free speech and human rights that they release our colleagues who are innocent and renowned journalists."
Calls for the release of Al Jazeera staff have previously been made from the White House, the British Foreign and Commonwealth Office, the European Union, the Australian Government and over 150 rights groups, including Amnesty International, the Committee to Protect Journalists and the International Press Institute.
Over 200,000 people have signed petitions globally, including two petitions signed by 150,000 people presented to the Egyptian Vice Counsel in Sydney by Australia's leading journalists.
Over 40 of the world's top journalists have also signed a letter demanding the release of the journalists, and media outlets across the globe have staged their own protests, including BBC, CNN, ITN, Channel 4, Fairfax Australia, Toronto Star, VRT deredactie and Iran's Shargh Daily.
High-profile supporters include leading media personalities Larry King, Christiane Amanpour, Jon Snow, Piers Morgan, Stephen Fry, Ben Wedeman, Brian Stelter, and Alex Thompson, as well as Naomi Klein, Reza Aslan, Mia Farrow and Bianca Jagger.
Similarly public calls of support for the release of the journalists have occurred throughout the social media campaign #FreeAJStaff, with over 137,000 people who have shared their support on Twitter, reaching 112 million people, and delivering over two billion impressions.
Al Jazeera