A forum on resilient food systems in Africa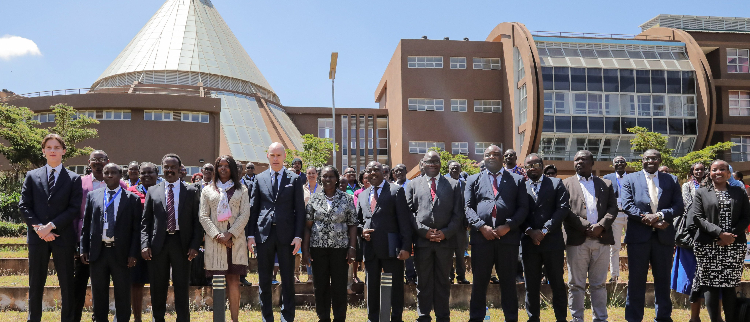 The Global Center on Adaptation (GCA) in collaboration with the African Development Bank and the Wangari Mathai Institute recently concluded a three-day regional forum on the future of resilient food systems in Africa.
The forum in Nairobi, Kenya, called the Future of Resilient Food Systems in Africa – AAAP Digital Solutions for a Changing Climate provided training aimed at strengthening the capacity of stakeholders from across Eastern Africa to design and implement solutions to improve food security and climate resilience.
It also aimed to facilitate knowledge sharing among farmers on approaches to scale up the use of Digital climate-informed advisory services, or DCAS.
Digital climate-informed advisory services are tools and platforms that integrate climate information into agricultural decision-making.
These services range from digital mobile apps, radio, and online platforms to digitally enabled printed bulletins based on climate models and extension services that utilize climate information platforms.
DCAS offers crucial opportunities to build the resilience of small-scale producers in the face of worsening climate change impacts.
From seasonal forecasts to pest advisories, effectively designed services provide producers with the resources to adapt to climate shocks and plan for new climate conditions.
Globally, more than 300 million small-scale agricultural producers have limited or no access to such services because service provision is still fragmented, unsustainable beyond project cycles, and not reaching the last mile.
Speaking at the opening ceremony of the forum, Professor Patrick Verkooijen, CEO of Global Center on Adaptation, called for urgent financial support to put Africa on the path of food sovereignty.
"Africa needs urgent support to scale up the implementation of adaptation solutions that are already yielding good results for irrigation, developing drought-resistant seeds, crops and livestock diversification, " he said. 
"Through the African Adaptation Acceleration Programme, AAAP, we are rolling out a $350 million project to build resilience for food and nutrition security in the Horn of Africa towards mobilising new digital climate technology for market information, insurance products, financial services that can and must be tailored to smallholder farmers' needs", he added.
Speaking on behalf of the African Development Bank's East Africa Regional Director General Nnenna Nwabufo, Dr Pascal Sanginga, Regional Sector Manager for Agriculture and Agro-Industries noted that the forum was timely, coming hot on the heels of the recently concluded Dakar 2 Feed Africa-Food Sovereignty and Resilience summit, organised by the African Development Bank.
He said "The Africa Adaptation Acceleration Program (AAAP) is already contributing to closing Africa's adaptation gap by supporting African countries to make a transformational shift in their development pathways by putting climate adaptation and resilience at the center of their policies, programs, and institutions.
"There is no doubt that AAAP will be a strong component of the Country Food and Agricultural Delivery Compacts to accelerate the transformation of Africa's food systems and build a more resilient Africa."
Professor Stephen Kiama Gitahi, Vice Chancellor of the University of Nairobi, reiterated the relevance of the forum, pointing out that 70% of the population in Eastern Africa live in rural areas and depend on agriculture for their livelihoods.
He encouraged the trainers to simplify the modules in a manner that removes the fear for technology and accelerate adaptation for rural farmers. Citing the legacy of late Professor Wangari Maathai he stated:  
"We acknowledge that gaps exist on climate adaptation in the rural communities and those can be smartly bridged with the use of digital smart agriculture and climate innovations to create great conservation impact in our region."
The forum brought together stakeholders from ministries of agriculture, related government agencies, public research institutions, farmer organizations, universities and non-profit organizations working on climate adaptation for food security in Eastern Africa.
These included participants from Djibouti, Eritrea, South Sudan, Burundi, Rwanda, Mauritius, Tanzania, Seychelles, Sudan, Ethiopia, Rwanda and Kenya.  

African Press Organization