A solid partnership to empower Liberian women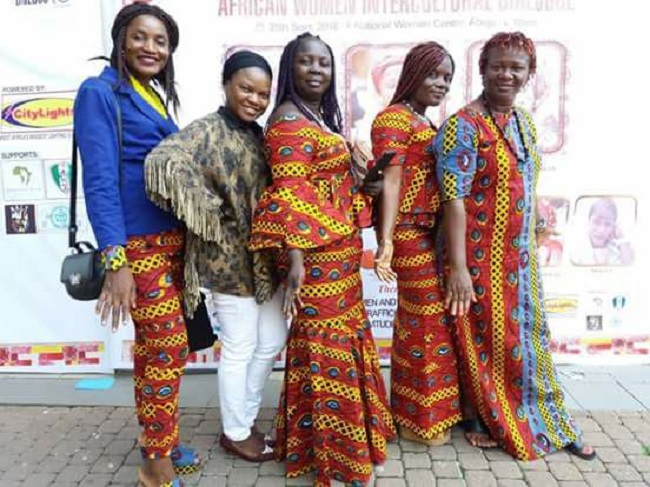 A group of Liberian ladies participated in the 2018 edition of the African Women Intercultural Dialogue (AWID) in Abuja, Nigeria on September 25.
Hawa Norris, Laila Genoway, Nohn Dekpah and Krubo Nwainokpor attended the event through a collaborative partnership between SEHWAH, a Liberia-based Non- Governmental Organization (NGO) and the SHEROES Sisterhood, a Pan-African women empowerment organization,
The gathering, at the National Women Center in the Nigerian capital, brought together women leaders, organizations and policy makers to address issues such as human trafficking, forced labor, domestic servitude and sexual exploitation. It was held under the theme, "Human Trafficking: Calling African Women, Policy Makers and Influencers To Action Against Cultural Realities, Aiding Human Trafficking, Domestic Servitude and Sex Slavery."
Among some of the prominent women who attended the conference were the first lady of Nigeria, Aisha Buhari and former vice president of The Gambia, Aja Fatoumata C.M. Jallow-Tambajang. The UN, UNESCO, the International Migration Organization (IOM), among others, were represented.
Speakers at the conference emphasized the importance of education, cultural diversity and development.
Mrs. Buhari spoke of the importance of education and her help toward street children while Mrs Tambajang called for change, noting that she is interested in seeking the Gambian presidency, calling on all women to support her.
SEHWAH is a group engaged in cultural and sustainable development programs. SHEROES Sisterhood is an international NGO committed to empowering and promoting African woman entrepreneurship both from the diaspora and in Africa.
The two are partner organizations working for the same goal.
In another development, On the eve of Liberia independence day celebrations this past July, through this partnership, women gathered for a workshop at SHEWAH office in Paynesville, just outside the Liberian capital, Monrovia.
Serving as worskshop conductor was Kim Poole, an American soul fusion artist and activist who uses her arts for social transformation. The workshop was intended for women empowerment and it was very inspirational as well motivational.
The focus was on entrepreneurship and how to make locally available materials into products or commodities that are consumed by Liberians. Tea was the focus of the workshop and by blending different ingredients, the participants made tea with sweet honey made in Liberia. Throughout the workshop, Poole emphasized the importance of locally made products for local consumption and exports. She said women empowerment is the mission of SHEROES Sisterhood.
"In spring of 2016 the SHEROES Sisterhood was founded in Accra, Ghana as a safe space to celebrate the beauty and resilience of black women by learning to protect 'her womb, her sister, and her nation.' Since this time, the Sisterhood has grown into an international support system, woven to address the physical, psychological, financial, and spiritual needs of the women they empower and uplift. According to Poole, "The establishment of the Sisterhood in Liberia makes this the 6th country where we are putting down roots."
To capture the journey of the SHEROES Sisterhood development, the Lashed-Out Series was birthed as a multi-media platform developed to promote positive imagery around black beauty and cultivate cross cultural exchange between black women around the globe through trade and economic empowerment.
"We are developing Shea Butter Farm co-oops in Ghana, moringa, baobab oil, soap and honey manufacturing in The Gambia, and now lemongrass, soursop, and ginseng tea blends in Liberia," she added She considers SHEROES as her "angel investors, trade partners, manufacturers, and board members"
Louise Warmenwoah M. Siaway is the executive director of Sehwah. She is a former assistant minister of culture at the Ministry of Information, Cultural Affairs and Tourism.
As a former government official, Ms Siaway believes that one does not have to be in government to be of service to one's country. She says her calling is to be of service to others, whether in or out of government.
Nvasekie Konneh