Borås to host Swedish poetry contest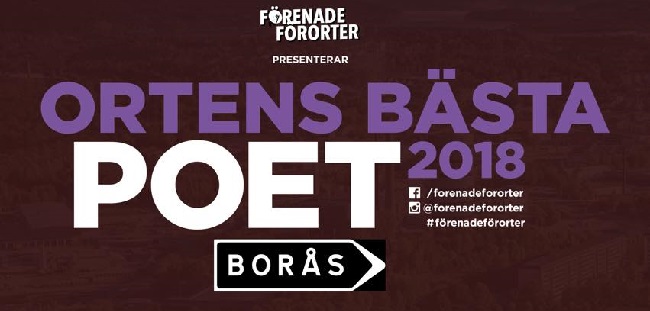 The 6th qualifying rounds of Ortens Poet ( the Suburb's Poet), a national suburban poetry competition in Sweden will be held at 4pm on Saturday, October 27 at the Navet Science Center in the city of Borås.
This will be first time that the contest will be held in Borås, located just an hour's drive from Sweden's second largest city Gothenburg.
The competition in Borås is jointly arranged with locals and with support from AB Bostäder in Borås, ABF Sjuhärad, ABF Västra Götaland, Borås city, Brygghuset, Tenants Association, Västra Götaland region and Navet.
Winners from each of the qualifying rounds from Stockholm, Gothenburg, Malmö, Västerås, Örebro, Linköping, Helsingborg, Umeå, Borås and Borlänge will square up for the big final in mid December.
Organized by Foreande Fororters (United Suburbs), the poetry championship, which has its roots in Poetry Slam, is simple. The poets compete with self-written texts, have three minutes per text and must not use props, beat or other means.
All poets will read two rounds each and the two poems with the highest total points win. The two winners from Borås will continue to the big finals.
The competition is judged by five jury groups, three of which are chosen randomly from the audience.
For the Borås event, two jury groups have been selected in advance, consisting of established rappers, poets or other inspectors. Blen, Moms and Yankuba Daffeh are in the first jury group while Kamal El Salim, Bibi Dawod and Ibrahim Dressevic are in the second. Melody Fashin will serve as MC with Blen putting up a performance.