Emotions high at Barway Collins memorial service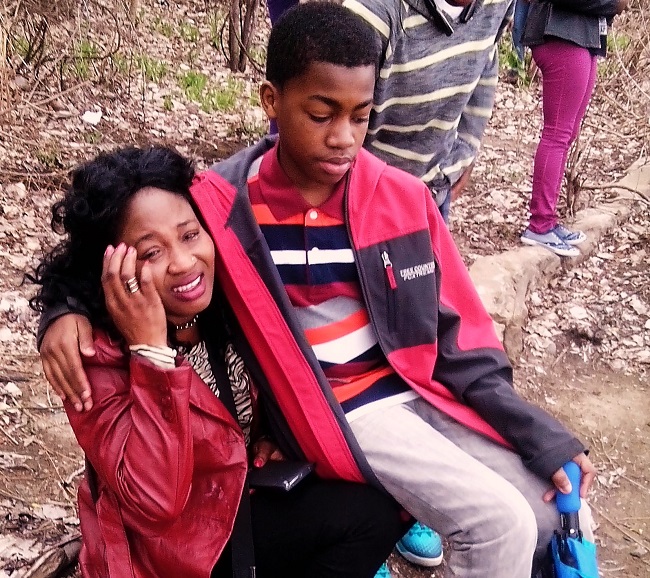 If the killer of charming Liberian 10 year-old Barway Collins thought his victim would go down into child-missing-murder history as yet another victim without much notice, he certainly made a great mistake as more than 500 people Sunday attended a second memorial to honor the lad at the Mississippi Regional Park, Minneapolis, Minn., the site the boy's body was found a week ago; James Kokulo Fasuekoi writes. 
Emotions ran high along the banks of the Mississippi River where hundreds marched to throw roses and balloons into the river and to say Goodbye to Barway at least for now. To get to the river, they used two narrowed bush paths, one of which is believed to have been used by the killer to dump Barway's body. 
Scores sobbed openly while some even broke down and had to be taken away by relatives. They all came from different walks of life and were joined by the brutal murder of Barway.
An older Liberian woman, who seems to hail from southeast Liberia where Barway came from, wailed continually while speaking rapidly in one of several languages of southeast Liberia,  pointing fingers to the huge but quiet Mississippi in anger. "Every day, we going fishing…taking Barway here and there, behold this is what it was leading to," she shouted, in an apparent reference to Pierre Collins, who police have charged with his son's murder. 
Apart from a few parents whose children attended the same school with Barway, majority of mourners at the ceremony neither knew Barway Collins nor have heard of him prior to his missing and murdered. They all had learned of the lad's pathetic fate through the mass media the weeks after the 4th grader went missing. 
Sometime during the evening of March 18th, a video at the Crystal Cedarwood Apartment complex showed Barway Collins approached the main entrance of that apartment but soon quickly turned away, vanishing from there.  His school bus had dropped him off just moments earlier in the compound. Barway's father Pierre Collins who's reported to have been present in the vicinity later reported to police that his son was missing. 
Little Barway was discovered dead Saturday, April 11 near the mouth of the Mississippi in Minneapolis.    
In the pavilion of the Mississippi Regional Park, near downtown Minneapolis, off Highway 94 where an indoor ceremony was held, each speaker this time addressed the gathering in gentle voices, often creating the hope that Barway is with the Lord. However, the main question asked by almost every speaker in tearful red eyes was: "Why did Barway have to die?" 
Micheal Phillips, a community youth pastor who was among many speakers at the occasion that delivered special tributes in honor of Barway, admonished members of the audience to speak to their children about the Barway tragedy and not ignore it. "We should speak through our children, not at them," he told everyone. 
Pastor Phillips pointed out that Barway's killer "Didn't remember that God carefully put Barway in his mother womb at that moment" of the murder, and further maintained, "Who ever put Barway to death-he's living in the night and in the dark. 
He prayed for the murderer of Barway Collins to repentant and hoped that "He [killer] too may recognize that he's a child of God."  
The occasion was interspersed by the showing of a slide photo-documentary of Barway's life which contained clips from his happy childhood life through, close to the period he got missing followed by his murder. 
Each attendee held onto a beautiful rose that symbolizes the precious gift that was Barway. It has been said repeatedly that prior to his fateful demise Barway played an active role in a local church. His biological mother, Louis Mala Karluah, later called from Liberia and was placed on speaker to speak to the audience, by Rev. Alexander Collins, executive director for Liberian Ministers Association in Minnesota. 
"I'm not there [in Minnesota] but my God is there," she said with a profuse "Thank you," to the audience.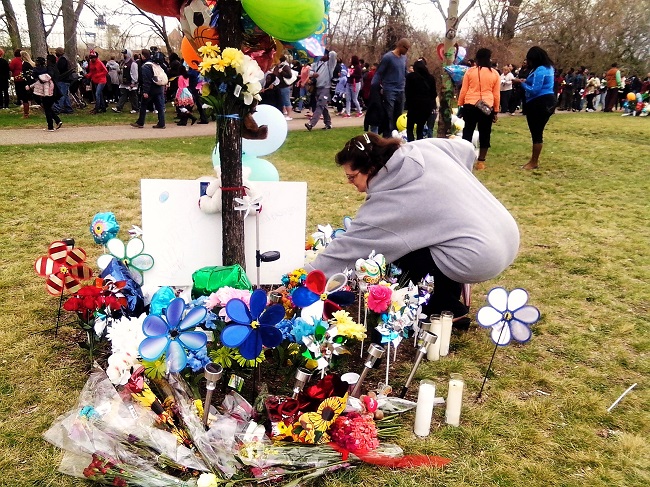 Meanwhile, an official of a Liberian community association in the U.S., Tony Leewaye who informed this writer that Louise hails from Karnplay, Nimba County, is among community leaders who are working to arrange Louise's travel to the U.S. so she can attend her son's funeral which may take place anytime soon. 
Sunday's memorial was the second in a row and it came at the heels of Saturday's memorial organized by late Barway's own Crystal community and associations meant to celebrate his life. Sunday's program appeared national in nature, and thus suggested what the main funeral may look like. 
The lady who organized the event together with three other mothers is Penny Castano, a Minnesota resident. Dubbed the "4 Moms," Penny who leads the group told this writer that she along with the other three sympatric mothers initially started a Facebook page and titled it "Search For Barway," immediately when Barway was reported missing. 
Their missions among others have been to provide services such as food and drinks to volunteered searchers. And after Barway's body was found, she said, they changed it to "JUSTICE FOR BARWAY."   
Photos: James Kokulo Fasuekoi