Gambian diaspora holds investment forum in Norway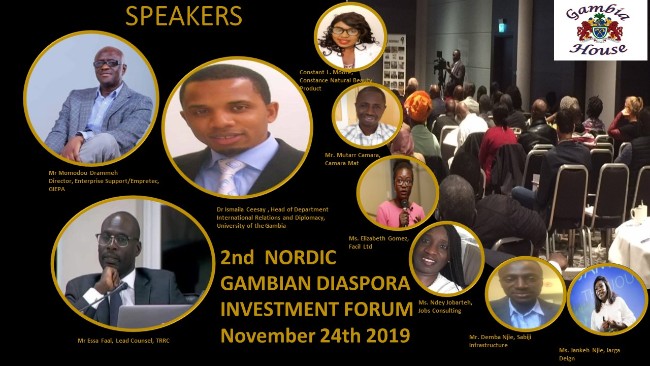 The second edition of the Gambian Diaspora Investment Forum will be held this Sunday in Oslo, Norway.
Information provided by the organizers, Norway-based Gambian House, notes that prominent Gambians from home and the diaspora,
including entrepreneurs and public officials, will participate in the event,
The forum will climax with the launch of the Nordic Gambian Diaspora Investment Fund.
Ndey Jobarteh, the head of Gambian House, will open the forum at 16:00, this will be followed by a talk from the lead counsel of Gambia's Truth Reconciliation and Reparations Commission Essa Faal on transitional justice and investment.
The head of the department of international relations and diplomacy at the University of The Gambia, Dr. Ismaila Ceesay will speak on the importance of political stability and diaspora investment while Momodou Drammeh, director of enterprise support at Empretec-GIEPA will talk about business opportunities in the Gambia and government incentives.
Gibou Ngum and The Afro Mbalaah, a group of musicians and artists promoting African musical, cultural and artistic heritage, will put up a performance.
The second session will focus on the experiences of Gambian entrepreneurs in the Nordic region with the following speakers:
Jankeh Njie, Chief Executive Officer (CEO) of Jarga Design; Constant L. Moore, CEO of Constance Natural Beauty Product and Ndey Jobarteh, CEO of Jobs Consulting Group.

This will be followed by a session focused on the year since the first Nordic Gambian Diaspora Investment Forum held last year with speakers like Elizabeth Gomez, owner and CEO of Facile Clothing; Demba Njie, CEO of Sabiji Infrastructure and Momodou Camara, CEO of Camara Mat.