How welcome are Africans in the UK?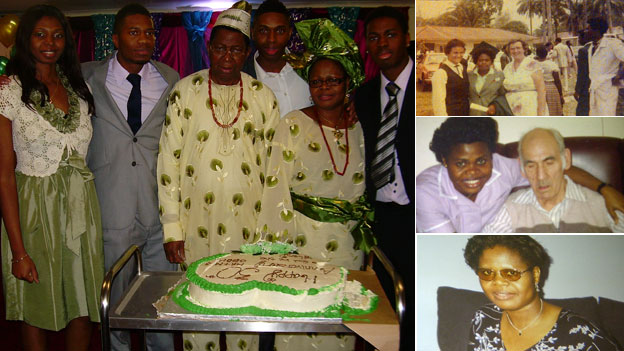 The Oboh family believes there are many opportunities in the UK
Nigerian nurse who has built a successful career in the UK, 57-year-old Sophie Oboh, has mixed views about the tighter immigration laws that the government is implementing.
Ms Oboh says she understands the reason for the crackdown but she is also concerned that it may go too far, preventing other Nigerian nurses from moving to the UK.
"If they are given the opportunity tomorrow, they will come," Mrs Oboh told the BBC.
"Nigeria is a very big nation. There are qualified nurses who don't have jobs there," she adds, pointing out that there is no risk of her home country experiencing a "brain drain".
When Mrs Oboh first came to the UK in 1988, it was "simple".
"My husband was here as a student. I was allowed to come and join him. Today, it's very difficult to come to Britain."
'Go home'
Now, UK law has split families – a point that South Africa-based immigration lawyer Johannes Breytenbach makes.
He notes that Britons must now earn a minimum of $30,000 (£18,600) a year to bring over a spouse who is a non-European Union (EU) citizen. He says this would disadvantage a British stay-at-home mother who would like to be joined by her spouse, who could be a successful businessman.
"This has been the worst change in law in relation to the impact it has on our clients who are British citizens," he says.
London-based human rights and immigration lawyer Kahiye Alim agrees, saying that unless you are well off, "you can't fall in love with a foreigner".
Mr Alim notes that the High Court has rejected the new financial rule as "onerous", ruling that they violate respect for family life under the European Human Rights Convention. However, the government has appealed against the judgement and the case is due to be heard next March.
"Immigration is and has been one of the top five political issues in each election in the UK since 2002. It is rising on the agenda across Europe and there is a correlation in this rise following the financial crisis," Mr Alim says.
The UK Home Office caused a major outcry in July when its vans drove through racially diverse boroughs in London, displaying a picture of handcuffs with the message: "In the UK illegally? Go home or face arrest."
'Sham marriages'
The government abandoned the scheme after criticism from across the political spectrum, including from the United Kingdom Independence Party (Ukip) – which appeals to voters opposed to immigration. Ukip described the message as being reminiscent of a fascist dictatorship.
The government has now proposed even tougher legislation – including requiring landlords to check the legal status of tenants before renting property; making temporary migrants pay £200 ($324) a year towards the cost of the National Health Service; and getting registrars to inform the Home Office of planned weddings between UK citizens and those from outside Europe, in an attempt to cut down on "sham marriages".
Defending government policy, a Home Office spokesperson said: "Immigration reform is working; we have tightened immigration routes where abuse was rife, while still encouraging the brightest and the best to come to the UK".
But for rights campaigner Lee Jasper of the Movement Against Xenophobia group, the "landlords' provisions in the bill are scandalous and herald a return to the days of the colour bar, where Caribbean and Irish immigrants in the 1960s were confronted with the signs: No Blacks, No Dogs, No Irish".
Mr Alim says the government's latest crackdown on immigration is tied to the fact that Prime Minister David Cameron has pledged to reduce net migration from the "hundreds of thousands" to the "tens of thousands" by the next election in 2015.
"It's a numbers game. They can't reduce migration from European Union countries because they are part of the EU, so they've picked on family migrants and students [from other countries]," he says.
In this year's local elections, Mr Cameron's Conservative party shed support to Ukip, which is campaigning for the UK's withdrawal from the EU.
"Cameron is trying to get voters to come back and the bill is the bait," Mr Alim says.
As part of its crackdown, the Conservatives proposed that visitors from "high-risk" countries, including Nigeria and India, put up a $4,600 (£3,000) "security bond" as a condition for obtaining a tourist visa.
However, it was forced to drop the idea following opposition from its coalition partner, the Liberal Democrats.
The new measures seem to be having some effect, judging by the number of Nigerians who have registered for a National Insurance (NI) number, usually given to legal migrants.
'Adapting to the British way'
Carlos Vargas-Silva, a senior researcher at the UK-based Oxford University's Centre on Migration Policy and Studies (COMPAS), says the number has fallen by 24% – from 10,510 in the 12 months leading up to April 2012 to 13,760 in the following year.
The 2011 census put the number of African-born residents in England and Wales at 1.3 million, compared with 809,000 in 2001 – an increase of 62%.
Mr Vargas-Silva says the main aim of the latest parliamentary bill is to deal with existing migrants, rather than decreasing immigration.
"One component is directed at undocumented migrants – these by definition are from non-EU countries, including African countries – and tries to make their stay in the UK more difficult. This should not affect immigration of skilled workers from African countries," he says.
The census shows that the former British colonies of Nigeria, South Africa, Kenya and Zimbabwe are the African countries which account for most migration to England and Wales.
Between 2001-2011, the numbers of Nigerians and Zimbabweans have both risen by more than 100%.
Mr Vargas-Silva says official statistics show that South Africans in the UK are financially better off than other African communities.
"South Africans are a very established community here and very different in economic terms. Their income is much higher," he says.
Mr Breytenbach says South Africans' "ambition" to relocate to the UK is as strong as ever, but they are finding it increasingly difficult.
"Immigration rules are certainly tougher which has led to many very highly skilled individuals who would like to go to the UK and who no doubt would have contributed to the United Kingdom economy now no longer being able to do so," he adds.
But the government insists its policies will continue to attract "global talent" to the UK.
"The UK is open for business – we are building an immigration system that works in the national interest and supports growth," the Home Office spokesperson said.
For Ukip member Tom Bursnall, the government's main focus should now be on blocking immigration from Eastern Europe.
"At the moment, the system disadvantages our Commonwealth brothers. A bright doctor from Nigeria or Namibia finds it far harder to get in than a rapist and a murderer [from Eastern Europe]," he says.
Mrs Oboh – the Nigerian nurse – works and lives in Slough, about 30km (20 miles) west of London.
The town has always had a large population of immigrants, with Eastern Europeans the latest group to settle there following their integration into the EU in the post-Cold War era.
"They are willing to do any job – like cleaning and working in factories," Mrs Oboh says.
Mrs Oboh has certainly succeeded in the UK, working her way up from doing ward duty to co-ordinating a team of nurses at a state-run clinic for mental health patients.
"I've always been passionate about mental health illness. Back home, there is a lack of awareness about it," she says.
Mrs Oboh says she has never experienced racism while working in the UK – and has "adapted to the British way of nursing".
That means speaking more softly, being less abrupt and making eye contact, she says.
"To look away from a patient is rude."
Although she describes Nigeria as home, Mrs Oboh, who has four children – "they correct my English", she quips – also sees herself as "very British".
"I love this country. The light [electricity] is constant, the water is 24 hours, the roads are smooth. It's organised," she says.
"The opportunities are there. If you don't make it here, you're lazy."
Source: BBC