Liberians in UK send supplies to fight Ebola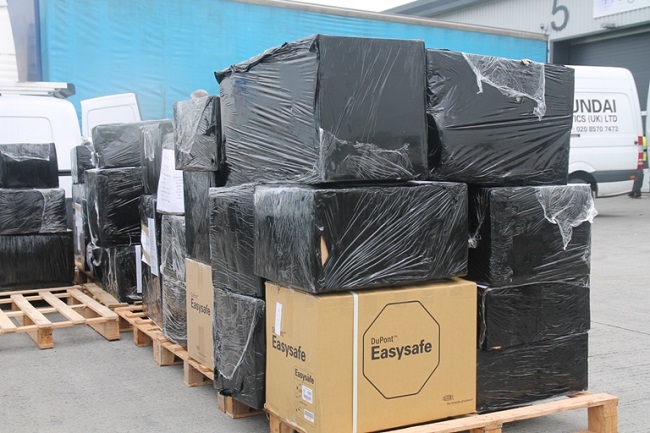 The UK- Liberia Ebola Taskforce established by the Union of Liberian Organizations in the United Kingdom (ULO-UK)  has airlifted the first of two consignments of assorted protective medical supplies to Liberia to assist the Government in the fight to eradicate the deadly Ebola virus from the country. The supply is expected to arrive in Liberia over the weekend on SN Brussels airline.
According to the Liberia Dental and Medical Association in the United Kingdom who spearheads the initiative on behalf of ULO-UK, the initial supply will be sent to the Phebe Hospital in Suakoko, Bong County because of the vast catchment communities that benefits from that regional referral hospital.
The hospital has been closed for a little over three weeks because of fears by health workers to contract the Ebola virus due to the lack of protective equipment to treat suspected cases of Ebola at the hospital.
Officials of ULO-UK who physically participated in stocking the materials including Dr. Kokulo Waiwaiku, Dr. Velma Troko, Dr. George Flahn, Mrs. Lena Marshall, Mrs. Evelyn DeShield and Mrs. Robena Vincent, the plight of medical practitioners in Liberia who have lost their lives in the execution of their duties is of great concern and everything should be done by all Liberians to encourage their return to active duty.  They described health workers as true professionals and promised to support them in whatever way possible to bring relief to the country.
Items included in the shipment are Anti-bacteria gel, disinfectants, surgical scissors, infra-thermometer, disposable aprons, face masks and orthopedic instruments amongst others.
The effort of ULO-UK was complimented by the Liberian Embassy in the UK who negotiated with SN Brussels Corporate Office in London for airlifting the 1200 kilograms of medical supplies to Liberia on gratis.
Liberian Embassy, UK