Kanvee Adams nominated for KORA Music Award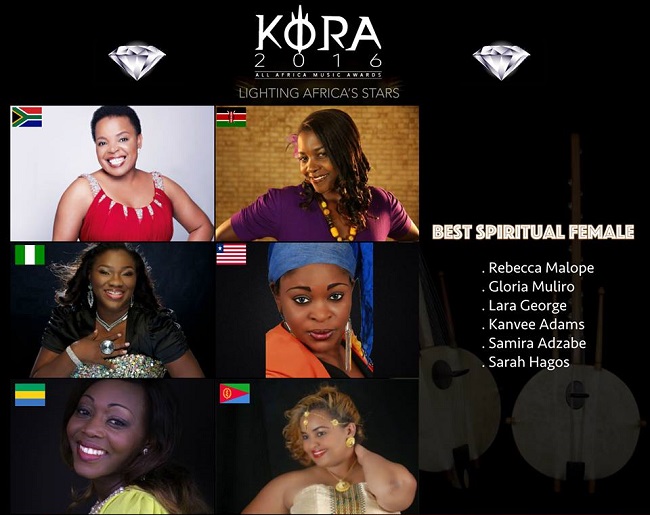 Liberian gospel music star Ambassador

Kanvee

Gains Adams has been nominated in the Best Female Artist for Spiritual Music category for the KORA Awards to be held in the Namibian capital, Windhoek on March 20.
Kanvee's track 'Heart Desire' is squared up against five other popular African artists in the category: Lara George of Nigeria, South African

Rebecca

Malope

and Kenya's Gloria

Muliro

. Rwanda's

Samira

Adzabe

and Eritrean Sarah

Hagos

are also eyeing the prize.
KORA
, which honors the best artists from Africa and its diaspora is the Pan African equivalent of the American

Grammy Awards

, released the nominees in several categories recently and noted in a release that voting which will be by

SMS

will begin now on January 25, instead of the previously announced date of January 20.
According to KORA, here is the voting procedure:  for international voting,

SMS

your artist's voting code to  +248984000. Voters in Nigeria and Namibia can send their artist's to 33320. 
Kanvee's voting CODE which is "94" should be sent to +248984000. 
Kanvee's inclusion in the KORA Awards 2016 is the first time a Liberian artist is being recognized Africa's highest musical event.
"This is not about me, but it's about our country Liberia. I'm aware that our country is such a very small one and that I will be going against other artists from bigger countries in terms in populations. But if we Liberians here and other parts of the world are united in this voting process, we can make our nation proud once more," notes 

Kanvee

.
Meanwhile,

Kanvee

who is the lone nominee from Liberia has promised to take along with her two other Liberian artists ( gospel and secular).
According to the gospel music star, who is currently in Liberia, taking the two artists with her to the awards ceremony in Windhoek is her contribution of helping to expose her fellow Liberian artists to the world.

In 2014 during the height of the Ebola crisis in West Africa, KORA named the Liberian star its Goodwill Ambassador on Ebola as the virus raged in her native country and its neighbors.
Featuring 27 categories across regions and common genres, KORA announces a monetary reward associated with each trophy, with the main prize 'Best Artist of the Continent' receiving a grand prize of US$1 million. 
Created in 1994 by Ernest

Coovi

Adjovi

, a businessman originally from Benin, the inaugural edition of KORA was held in 1996 in Johannesburg, South Africa. 
Since its inception, the Pan-African cultural event named has taken place 12 times on the African continent.