Liberia can't just run and print off scads of cash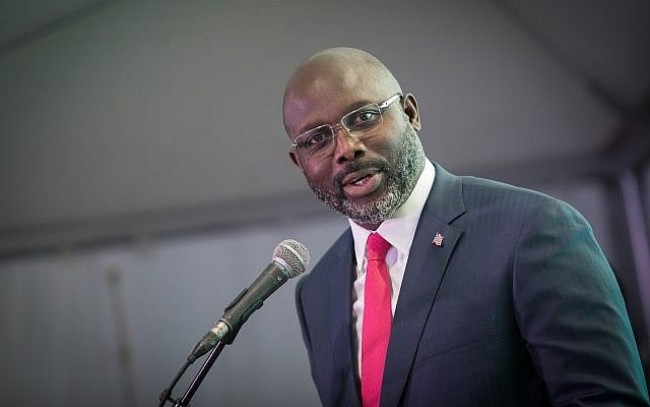 By Seltue Karweaye
In a communication dated December 15, 2019, Liberian President Weah stressed the increasing liquidity needs of the economy, informing the Senate that the current liquidity projection of the CBL, compared with a very low Liberian dollars vault cash position of both the CBL and commercial banks, makes it imperative to infuse additional banknotes to ease the liquidity pressure as a short-term measure.
President Weah intimated "we are aware of that the Legislature is currently deliberating pressing national issues, including finalizing deliberations on authorization of the CBL to print a new set of Liberian dollar banknotes, the existing situation presents a volatile financial environment such that the current Liberian dollar vault cash position with the CBL is very inadequate to meet both current and future Liberian dollar liquidity demand of commercial banks; posing a potential security risk. Therefore, based on the fact that there exists high pressure on the volume of currency in circulation, I request the Legislature, in accordance with Article 34(d) of the Constitution of Liberia to authorize the Central Bank of Liberia to print and infuse L$4.0 billion of the present currency to ease the current liquidity pressure; I trust that the Legislature will respond in a timely manner, in the interest of our nation and its people."
Critics of the Weah administration like Representative Yekeh and others have revealed the administration printed the banknotes already and was seeking authorization to release the newly printed banknotes into the economy as he did not follow protocol (greeting legislative approval first). On December 18, 2019, the Legislature has approved President George Weah's request to print L$4 billion for infusion into the economy. Even though the Liberian Senate approved the printing of LD 4 Billion, arguably the fundamentals are definitely not right to print money in Liberia. Liberia's high public debt levels, sustained average fiscal deficit in the last 3 years, current account deficit and low international bank balances are factors that would militate against the latest currency print by the Weah's administration. Our central bank must address the exchange rate disparities between the US dollar and the Liberian Dollars and tackle the possibility of hyperinflation in the economy before printing more money. What do I mean?
In September 2018, local media reported that shipping containers filled with newly printed Liberian dollars from Swedish banknote manufacturer Crane AB disappeared from Liberia's entry ports between 2016 and 2017. The Central Bank of Liberia denied the allegations and stated that the money was stored in vaults across the city. Two reports were commissioned to examine the details. The government's Presidential Investigative Team (PIT) completed one. Risk advisory firm Kroll, the other. Both found major flaws in how government policy was implemented in each case, and neither the PIT nor Kroll was able to account for all of the newly printed Liberian dollars or the additional US dollars in the country. According to Kroll, only L$5bn of the total L$15.5bn was printed and distributed in line with Liberian law. The central bank did not receive legislative approval for the remainder of the cash but entered into another contract with Crane who proceeded to print and deliver the money to Liberia anyway. Kroll also found an excess of L$2.6bn was printed in addition to what was initially disclosed. The PIT's report recorded a similar finding.
Just a few months before the 16 billion revelations, President George Weah announced that the central bank would pump $25m into the economy to replace older Liberian dollars. Weah's Technical Economic Management Team (TEMT) argues that the Liberian dollar has been losing value – or depreciating – since July 2017. This has led to higher import costs and inflation, which means that everyday goods have become much more expensive for the average person in the country. The president's "mop-up" exercise, as it was dubbed, took place between July and October last year. It was intended to reduce the amount of local currency in the economy to slow further depreciation.
The General Auditing Commission's forensic investigation has revealed that US$2,378,187.00 has not been properly accounted for during the US$25 million Mop-Up exercises conducted by the country's Technical Economic Management Team (TEMT). Under the signature of Auditor General, Yusador Gaye revealed that US$491,769.00 was spent on 15 entities, which the Central Bank of Liberia (CBL) claimed to have participated in the mop-up exercise; however, those entities denied participation in the process. Also, the report said that, per CBL records, 27 entities received US$702,680.00 during the Mop-up exercise, but none of them were registered as per document review from the Liberia business registry records. The report also said that 52 entities, per the CBL record, received US$1,092,292.00 but did not answer or reply to telephone calls or text messages from GAC auditors. Further, the GAC report explained that 8 entities that received US$163,446.00 during the mop-up exercise, per CBL records, were not in operation during the field visit.
A leaked letter – written to President Weah and signed by nine ambassadors (European Union, US, UK, France, Germany, Ireland, Japan, Norway, and Sweden) put the spotlight on how the Weah's administration had withdrawn donor aid kept in accounts at Liberia's central bank without their authorization. According to the minister of information as "part of the money was used for salary payment because people had to be paid for Christmas [last year] and New Year and the government had some shortcomings and the government was in the process of returning the money before this communication came."
The World Bank wrote Finance Minister Samuel Tweah in March of 2019 to repay the amount of US$3,285,750 of "ineligible expenditures" back to the Bank's account. The money, according to the bank, includes US$35,750 worth of "stolen laptops" and unapproved debit of US$2 million, both from the Ebola Emergency Response Project; while the rest came from other unapproved debits from the Liberia Social Safety Nets Project under the Ministry of Health (US$500.000); Public Sector Modernization Project (US$500,000); Liberia Forest Sector Project under the FDA (US$200,000) and the Liberia Urban Water Supply Project (US$50,000).
Liberia's empty vaults hold a fundamental lesson: For money to work, people have to trust in it. And the Liberian government under the leadership of George Weah has repeatedly betrayed the people's confidence through gross fiscal and monetary mismanagement, For Liberians, the most striking manifestation are civil servants haven't taken pay for over 6 months, inflicted prices of core commodities, medicines, and pharmaceuticals, most of which are imported, are in short supply and only at exorbitant prices with coupled with rising inflation. A shortage of trust means a shortage of money, and a shortage of money means a shortage of everything else.
In an OP-ED in the New York Times, George Weah penned "Don't Forget about Liberia. Liberia is open for business." "Liberia is open for business" has been the Weah administration's battle cry, but the compounding political and economic crises mean that the public is unwilling to trust a "new dispensation" that is so closely intertwined with the old. ArcelorMittal Liberia has threatened to halt phase two of its investment in Liberia on suspicion that its concession area at the Port of Buchanan is being encroached on with the 'endorsement' of the Government of Liberia through a deal with Prista Port. The company's "objection to a concession agreement entered into by the National Port of Authority (representing the Government of Liberia) and Prista Port Buchanan LLC on grounds that it includes and overlaps a majority of the current concession area of ArcelorMittal Liberia in Buchanan, Grand Bassa County".
No one thought rebuilding the country's economy would be easy, but Weah and his policymakers seem confounded. Every time a finance minister appears in public to explain the situation and offer a solution, things get worse. Samuel Tweah who is an executive of Weah's Congress for Democratic Change (CDC) and was appointed finance minister, is already on being heavily criticized with some calling for his dismissal for the dismayed performance of the Liberian economy. During a recent radio interview, he sounded frustrated and short-tempered. "Those are not the issues, and I don't want to get stuck on those issues," he snapped at the radio presenter, refusing to answer her sharp questions about taxation, shortfalls, and inflation. Tweah's dismissiveness echoes the general state of denial in Liberia's government. After months of government tinkering with the money supply, people no longer trust in the bank sector including donors. Ordinary people who don't have access to banking or mobile money struggle in a world with no cash or where the value of their cash can be wiped clean at a moment's notice. The inequality is stark. In Liberia, people who have access to US dollars are simply getting more for their money than those who don't. Where are people who have no access to relatives or trading partners abroad, or to US-dollar-denominated accounts supposed to find them? How can they keep up?
Arguably, money in Liberia is barely performing the core functions of money. Perversely, the lack of trust in government reminds us that banking is just an idea while people are real. The lack of trust of the Weah's administration from citizen oscillating wildly, but Liberian are still eking out an existence despite the hardship; dealing with each other out of the banking sector and other systems that pare down trust to its fundamentals—I see you, I know you, I trust you. Perversely, this crisis may accelerate Liberia's worsening economic woes to a more complex one. Much of the suffering currently inflicted on ordinary Liberian right now is unnecessary—a symptom of a Weah's administration that has taken the loyalty and trust of its citizens for granted.
Weah's administration can't keep printing money to cover her spiraling cost and inflation is rising. What his administration is lacking is the understanding that printing more money won't equate to an increase in productivity in the Liberian economy, since there is little new investment to create new goods. So, in effect, you will have more money chasing the same goods. In other words, you needed more dollars to buy the same stuff as before and prices will rise drastically. This happened recently in Zimbabwe, in Africa, and in Venezuela, in South America, when these countries printed more money to try to make their economies grow. As the printing presses sped up, prices rose faster, until these countries started to suffer from something called "hyperinflation". That's when prices rise by an amazing amount in a year. What is needed is public trust! According to the Organization for Economic Co-operation and Development (OECD), public trust in government has been identified as one of the most important foundations upon which the legitimacy and sustainability of political systems are built. Trust is essential for social cohesion and well-being as it affects governments' ability to govern and enables them to act without having to resort to coercion. Consequently, it is an efficient means of lowering transaction costs in any social, economic and political relationship (Fukuyama, 1995). A high level of trust in government might increase the efficiency and effectiveness of government operations.
Rebuilding public trust won't come from ever-more complex financial policies, printing LD 4 Billion to pay civil servants as argued by CDC executive and member of the national legislature Acarous Gray on Facebook or Liberia's security forces launching a violent crackdown on December 30, 2019 mass citizens protest or crackdown done under the cover of a social media blackout or outright denials by members of Weah's administration. It will start with something as simple as the government finally telling the truth, respect for the rule of law, forging for government effectiveness, control of corruption, promoting voice and accountability, regulatory quality, political stability and absence of violence.
Seltue Karweaye, M.S, M.P.A. M.B.A, the writer of this article is a Liberian residing in the the USA and can be contacted at S.Karweaye1668@tsu.edu or Karweayee@gmail.com
Seltue Karweaye, M.S, M.P.A. M.B.A, the writer of this article is a Liberian residing in the the USA and can be contacted at S.Karweaye1668@tsu.edu or Karweayee@gmail.com
Seltue Karweaye, M.S, M.P.A. M.B.A, the writer of this article is a Liberian residing in the the USA and can be contacted at S.Karweaye1668@tsu.edu or Karweayee@gmail.com
Seltue Karweaye, M.S, M.P.A. M.B.A, the writer of this article is a Liberian residing in the the USA and can be contacted at S.Karweaye1668@tsu.edu or Karweayee@gmail.com