Roopnarine: Making a difference from Canada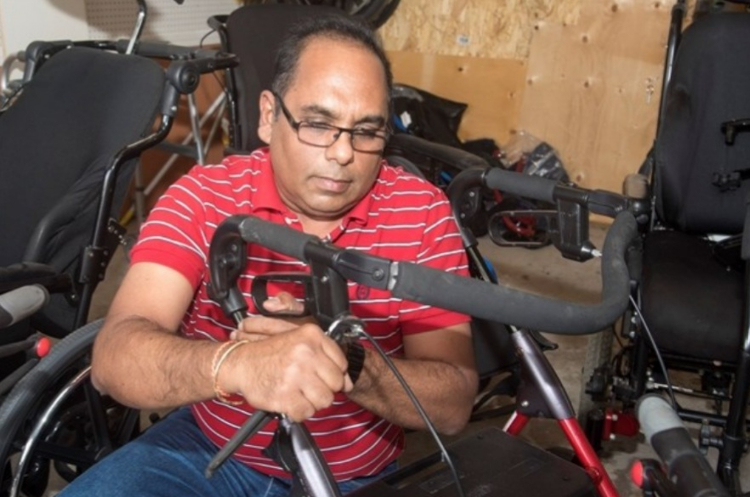 By Draper C. Tolborh Sr.
As the saying goes one person can make the difference, a native of Chase Village in Trinidad and Tobago, Krish Roopnarine is one of those individuals.
He continues to leave an indelible mark by working in his garage every day in Brampton, Canada repairing walkers, wheelchairs, for shipment etc, to those that are desperately in need in Africa and other parts of the world.
Roopnarine migrated to Canada with his family in 2010. He began his humanitarian work in 2013 and has donated over 2000 walkers, wheelchairs, educational materials, funds, etc. to countries in Africa and the West Indies.
Some of the countries are: Trinidad and Tobago, Guyana, St. Vincent, Antigua, Grenada, Dominica, Guatemala, Mali, Miami, Honduras, Ecuador, Ghana, Guinea, Suriname, Jamaica, St. Kitts Nevis, Senegal, Sierra Leone, Armenia, Pakistan (funds for the poor), St. Lucia, Cambodia, Nigeria, Sri Lanka, Philippines, Gambia and Liberia.
For Liberia, the donation was done through the Federation of Liberians in Canada (FLAC).
Roopnarine stressed that he "is not fascinated in getting any money for the services he is rendering but interested in helping those that are in need''.
He added ''all the countries that I donated to, no one ever called or show me pictures and videos of how the donation was done individually."
Roopnarine underscored the need for Liberians to be sincere in all aspect of their daily activities.
He frowned on the recent donation by the Federation of Liberians in Canada to the Liberian Ministry of Health.
He said the picture used on the banner and T-shirts of FLAC donation to the Government of Liberia were taken in front of his home in Brampton, Canada.
Roopnarine said he feels betrayed by the leadership of FLAC for the fact during their donation to the ministry in Monrovia, the Libeian capital his name was never mentioned.
He hopes that the leadership of FLAC will see reason to correct its mistakes.
He said despite the high cost of shipping, he does not relent in contacting consulates of the recipient nations to buttress his efforts.
Roopnarine, who works as a shipper/receiver does not put money into his aspiration, other than the gasoline he puts into his van to go around and pick up the donated items and bring them home.
Roopnarine who works full time job, has restricted his repair work to evenings, weekends and holidays.
The endless hours have not gone unnoticed. He was given an award by Mayor Linda Jeffery. He has received numerous letters also from governments commending him for helping out their citizens.
His wife Dhamatie and sons Demitri and Yuri also help him out. He wants to make sure that the donated items go to those who truly needs it.
He said ''every time I see the ecstasy on their faces it means more than money." Moreover, Roopnarine has also donated clothing, diapers and mattresses.