South Africa's small-scale fishers try to turn the tide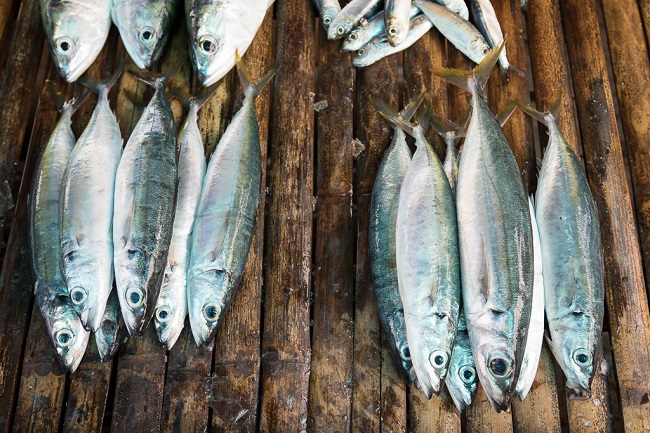 The sea seethes and bubbles when the snoek are "running" off Lamberts Bay in South Africa's Northern Cape. It seems almost as soon as the line and hook is in the water, there's a half-metre fish on the end of it.
Wilfred Gonzalves says he caught 285 in 30 minutes in April, his two-man crew hauling them in, then expertly breaking the neck of each fish before throwing it onto the deck of his tiny, rocking boat.
Gonzalves still smiles at the memory. Snoek, a species of horse mackerel, is particularly popular in the Cape region. The selling price then was $6 a fish, a good catch even when he factors in his expenses of bait, fuel, oil, and the split with his crew.
But the tide has always been against small-scale fishers like Gonzalves. Under apartheid, his father and grandfather were the cheap labour that crewed the boats or worked in the fish processing factories.
Democracy in 1994 did not win this community recognition or opportunities. Instead, the ANC government favoured commercial fishing with an eye to its export potential, and it took a landmark court decision in 2007 ordering the government to extend rights to small-scale fishers for their marginalisation to be acknowledged.
And they are still waiting for redress. In 2012, a a new fisheries policy was finally adopted that gives legal recognition to artisanal fishers. It promotes co-management of marine resources, collective rather than individual rights, insists on preferential access to the "near-shore", and is sensitive to the key role women play.
But implementation is not expected until 2017, and no one yet knows what will be in the "fishing baskets" the cooperatives are supposed to manage, or the number of licences that will be issued.
In the meantime, small-scale fishers depend on "interim relief" – a decade-old permit system originally intended as temporary assistance to those who had no access to fishing rights.
Playing the lotto
Fishing communities complain that the Department of Agriculture Forestry and Fisheries list is corrupt and mismanaged: it ignores bona fide fishers and includes outsiders with business interests. Permits are also issued late in the fishing season, and catch quotas shrink each year.
"Receiving fishing rights is like playing the lotto. If you want to feed your family, the system turns you into a poacher," said Nico Waldeck, an activist and fisherman. "If you exclude 20 fishers and give rights to one fisher, those 20 will still fish."
Nearly 90 percent of the world's 120 million full- or part-time fishers are artisanal. An additional 200 to 300 million mainly women are employed throughout the production value chain.
Unlike commercial fishing enterprises, the smaller operations don't indulge in mass "discards", the throwing back into the sea of unmarketable fish [often dead or dying], either due to unwanted species or quota limits. But despite this, and despite their adaptability, small-scale fishers are still often associated with inefficiency, poverty traps, and destructive fishing techniques.
Gonzalves rejects that characterisation. He regards fishermen like himself, in tune with the environment on which they depend, as custodians of the eco-system. He said it's the commercial fishing trawlers, encroaching in the near-shore, sweeping up the sardines and anchovies that snoek and other large predators rely on, that are the real culprits.
"The trawlers use nets that take away all sea life, including plant life," he told IRIN. "We just throw a line in the water."
Poverty has compounded the problem for Cape fishing communities. They are victims of the unemployment, drugs, and failing schools that scar all of South Africa's neglected under-class. 
Not only have they been sidelined by policy, but the required form-filling, banking history, and a "mindset to think commercially", after generations of informality, has held back many who could have taken advantage of the limited legal permits on offer, said Waldeck.
Into that gap have stepped middlemen known as "marketers". At the beginning of each season, they roll into Lamberts Bay in flash double-cab "bakkies", setting the prices at which they'll buy from the small-scale fishers, and cementing that exploitation by advancing money to pay for the fuel, lines, and bait – all of which must be repaid.
"At the end of the day, they own us," said Rosie Shoshola, a fishing title holder. "They can tell you to go and get your [advanced money] from the local drug dealers," she added, underlining the criminal links.
Messy data
According to the UN Food and Agriculture Organization's annual fisheries and aquaculture report, 31 percent of global commercial fish stocks are fished at a biologically unsustainable level, and 58 percent are "fully fished", without room for expansion.
Those figures are based primarily on data from fisheries in the northern hemisphere: what is lacking are robust statistics on stock rates in the rest of the world.
Researcher Serge Raemaeker, at South Africa's University of Cape Town, argues that extrapolating trends from well-researched commercial fisheries can be detrimental to our understanding of data-limited small-scale fisheries.
"There is a dogma out there that everything is screwed," he told IRIN. "That is not true, but there is a dire need to complement local knowledge with mainstream scientific data."
DAFF sets its catch quotas based on estimates. But it's a science the Lamberts Bay fishers reject, regarding it as a means to still privilege commercial fishing at their expense.
"Those are scientists working with the big companies. That's the apartheid system," said Shoshola.
At an impromptu meeting at her one-bedroom house, other fishers spoke out, arguing that DAFF's inspectors miss the bulk of the fish landings because they only work office hours, and also don't know where to look to find the fish they are supposed to assess, especially as climate change is altering old patterns.
Can a new app help?
The science behind whether catch rates are a proper indication of stock health is disputed, making it difficult to know without better data whether fisheries management can see stocks sustainably rebound, or if we're already over the cliff.
See: A perfect storm: Climate change and overfishing
For small-scale fishers, "the problem is, we don't have our own data – our history is just in our heads," said Waldeck. "But if stocks are depleted, then we need to manage them, but from here, not Cape Town [the base of the fishing industry]."
He and Raemaeker are among the developers of a pioneering information-management mobile app for small-scale fishers with the power to help do that. It combines fisheries monitoring and maritime safety features, to which market data will soon be added.
The initiative, known as Abalobi, has won the support of DAFF, who have provided seed money and plan to adopt it as the official catch management system for the government's small-scale fisheries policy.
The men at Shoshola's house, all part of Abalobi, were thinking big when IRIN visited. They still remain uncertain as to whether the new policy will really bring the changes they need, but they are already in talks with Woolworths, South Africa's top-end retailer.
Even if they cannot meet that level of demand, as a trendy niche in the fishmonger section, they aim to benefit from whatever training the store can provide on food standards and financial management.
Abalobi has been piloted in six sites in the Cape. Aside from the technical information it stores, recording catches and locations, it is the idea of potential social and economic change around which communities are mobilising.
Waldeck sees the next move as cutting out the marketers by pooling money within the cooperatives, guaranteeing a fair price to their members.
In the short-term it will be painful, given their lack of resources – and the response from the middlemen may also make things uncomfortable.
But Waldeck said the community had already been suffering for many years and could deal with the marketers and the gangsters. "All we know: we can't work in the same way as our grandparents. We need to change the tide of poverty," he told IRIN. "Fishing is money, but it's currently money for someone else."
IRIN