Tanzanian mobile app wins Ecobank fintech challenge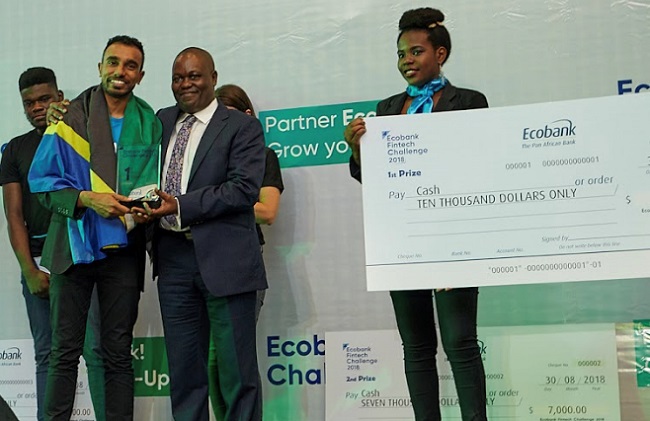 Winners of the 2018 Ecobank Fintech Challenge were announced at a ceremony held at Ecobank's headquarters in Lome, Togo on August 30.
Nala, from Tanzania, beat the ten other finalists to emerge as the overall winner of the competition. Virtual Identity from South Africa and Wallet.ng from Nigeria were the first and second runners up. They won cash prizes worth US$10,0000, $7,000 and US$5,000 respectively.
Nala, based in Tanzania, is a mobile money application that works offline, without an internet connection. Nala provides a unified user experience in which multiple financial services can be connected on one application. It can host multiple SIMs, enabing users to manage their spending and take control of their finances.
Second placed Virtual Identity is an innovative platform designed to disrupt traditional customer onboarding for banks. The process is fully digital, creating a virtual video conferencing link between the agent and the customer. Its easy to use web-based solution allows the client to complete tedious KYC processes from anywhere, making it both convenient and time saving.
The third placed prize winner, Wallet.ng, is a start-up providing an alternative bank for a growing generation of digital natives. Its core strength is building a banking platform that is as native to customers' devices as Facebook and WhatsApp.
Ade Ayeyemi, Ecobank Group CEO praised the finalists for their innovative solutions and welcomed them to the Fellowship: "We are proud of the impressive start-ups that made it to our 2018 final. They are shining examples of the entrepreneurial spirit and creativity that will propel our continent's global competitiveness in the commercial services markets, and I sincerely expect some, if not all, of them to be the business titans of tomorrow.
"They have my congratulations and we look forward to working closely with all eleven Fellows over the next year to deliver innovative banking services at better price-points that will improve the lives of Africans."
This year's Fintech Challenge was keenly contested with applications from over 412 innovative fintech entrepreneurs from across Africa, Europe, North America and Asia.
All eleven (11) finalists were inducted into the Ecobank Fintech Fellowship, a one-year business program where they can explore opportunities for commercial partnerships with the Ecobank Group, to launch and scale products across Ecobank's 33 country markets in the continent.
Launched in 2017, the second year of the Ecobank Fintech Challenge brought together fintech start-ups and innovators, policy makers, investors and development organisations from across the world to network, witness the 2018 finalists' exhibitions, and celebrate the induction of the finalists into the 2018 Ecobank Fintech Fellowship.
Also present at the finals was the Honourable Alhaji Dr. Ibrahim Awal Mohammed, Minister of Business Development of Ghana, who commended Ecobank for this initiative and urged more support for young African entrepreneurs to improve job creation on the continent.
The Ecobank Fintech Challenge and Fellowship is designed and managed by the advisory firm Konfidants and supported by FMO, Microsoft4Afrika, Accion Venture Labs, Cellulant and FinConecta.
More information on the fellows, their innovations and the Innovation Fellowship can be found on the programme website at www.EcobankFinTech.com.
African Press Organization