UK Liberia ebola task force appeals for donations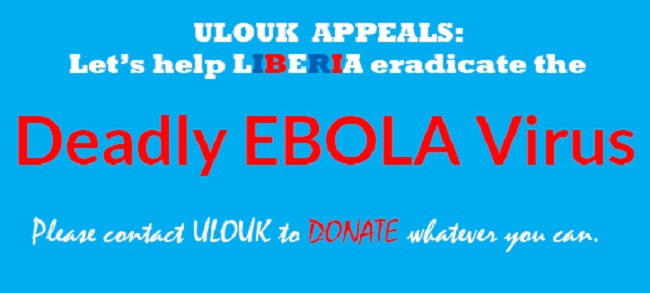 In the wake of the Ebola epidemic which has hit the Republic of Liberia, continues to spread leaving hundreds dead in the country, Liberians in the United Kingdom lead by the Union of Liberian Organizations in the UK (ULOUK) and the Liberian Embassy at the Court of St. James in London, have formed the UK/Liberia Ebola Task Force and an appeal aimed at collecting donations of needed medical products and funds to assist their fellow countrymen in combating the deadly virus. 
The key objectives of the task force are, to liaised with the Liberian Taskforce and the Ministry of Health and Social Welfare to ascertain as to what is actually needed in terms of support or help from the Liberian Diaspora; considering that there are International Non Governmental Organisations already helping in Liberia;
To set up relief fund for victims of the Ebola virus that would provide needed assistance to family members, and incentives to encourage people that have been in contact with victims or infested individuals to go forward for testing; To provide educational materials and support that would help minimise further spread of the virus. 
The Appeal urgently requests the Liberian community in the UK, the philanthropic and the ever caring British public's assistance in the donation of the following medical products which need to be sent to Liberia urgently to facilitate the work of the health workers to reduce the spread of the disease as aid workers dispose of the bodies of victims. 
The following items are urgently needed for shipment to Liberia:
Body bags, Anti-bacterial hand wash/ hand gel, Disposable examination gloves, Wellies, Disposable gowns, Surgical masks, Shoe covers, Head caps, Disposable medical PPE kits, Goggles, Back Pack Sprayer, Heavy Duty Plastic Apron,  Different sizes of sterile gloves, Face shield, Oral Rehydration Fluid Solution, PPE Hoods, Needles, Syringes, Hand Spray bottles and Infra/Digital Thermometer. 
Several drop-off points have been set up in various cities around the UK where material donations may be dropped off. 
Members of the UK/Liberia Ebola Appeal can be contacted by phone for further inquiries at these points. The drop off points are: The Liberian Embassy (London) – 02073885489, Mr. Albert B. Cheapo (London)- 07503747454, Mrs. Evelyn Duke- Deshield (London)- 07957137481, Mrs. Lena Marshall (Manchester) 07963439607, Mr. Joseph Walker/ Mr. Fidel Absoloot Body (Sheffield), Mr. Daniel Zeegbuo (Derby), Dr. George Flahn (Birmingham), Mr. Mohammed Sonnie (Northampton), Ms. Elizabeth Kollie Jallah ( Milton Keynes), Ms. Aritha Dorblae (Nottingham), Durrell Dennis – Kuku(Luton), Mrs. Robena Lewis-Vincent (Great Yarmouth / Suffolk), Mr. Jerry Boweh (Scotland). Further Inquiries: Dr. Velma Troko – 07940463995, Dr. George Flahn – 07968020251, Mrs. Evelyn Duke – Deshield – 079 571 374 81
In order to fly donations in to Liberia, funds are needed urgently. The UK/Liberia Ebola Task Force Appeal therefore appeals to those unable to drop off the above mentioned materials to materials donations mentioned above, to generously donate the minimum of £1.00 to please make a generous donation to the following emergency account:
HSBC Bank / Ref: LIB-EBOLA
Acct Name: LMDA-UK
Acct. Number: 01526804
Sort Code: 40-43-28
More information about donations can be found under http://www.ulouk.org/#ebola
Help prevent the spread of Ebola in Liberia. The virus is spreading and the death toll is increasing. Let's act before it is too late.
Thank you in advance. 
Dr Velma Troko, Head of the Task Force