UK: Liberian businesswoman gets international award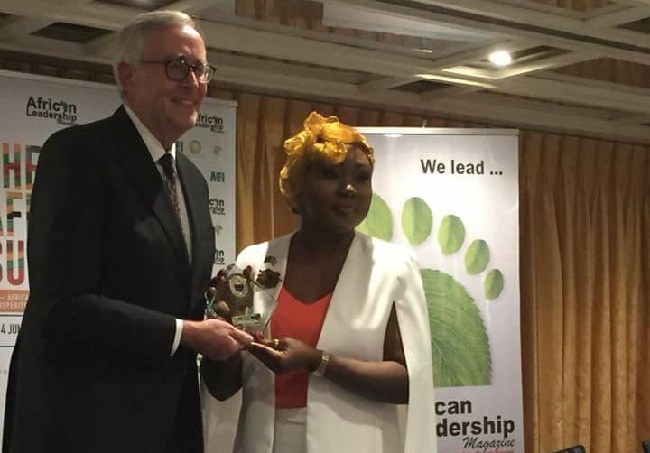 Local Liberian business entrepreneurship has taken off in recent years. In an economy previously dominated by foreign businesses, local Liberians can now be seen engaging in small business initiatives from peddling small goods on street corners to restaurants and entertainment centers.
The new Liberian renaissance of taking their destiny into their own hands through turnover of their meager resources was honored at a ceremony organised by the African Leadership Magazine on 14 June at the London Hilton Hotel in the United Kingdom.
One of Liberia's finest and up and coming business executives, Leelai Kpukuyou was among many distinguished honorees who received awards for their work in fostering business opportunities in the interest of their communities and businesses across Africa and the Afro-Caribbean diaspora.
Receiving the Female Business Leadership Excellence Award, Ms. Kpukuyou recounted the many obstacles she encountered and praised those who have supported her business endeavors.
She said "I stand here today as a testament of what is possible when you invest in the private sector and see it as an equal profession like other public sector and corporate jobs."
Ms. Kpukuyu has created a number of Liberian initiatives, including the Africa Youth and Empowerment Initiative (AYOWEI), established by a team of Liberian professionals with a passion to lift needy women and youths from the state of despair to a place of dignity by empowering them through entrepreneurship to become financially independent and contribute to the social economic development of Liberia.
Conceived in 2010, AYOWEI adopted a unique business model that financially empowered former child soldiers and teenage mothers.
"Receiving this prestigious award serves as a motivation to do more work with Liberian women and youth and let them know that there's dignity in a labour. Liberia and Africa need more employers and wealth creators beyond white collar jobs. This award in London is based on what I've been doing in the past with women and youth relative to the Liberian private sector. I'm committed to continuously working with women and youth in this respect, and collaborating with like minds to help our country," Ms. Kpukuyou stressed.
Ms. Kpukuyou used the occasion to express her sincere thanks and appreciation to President George Weah for raising awareness towards the issues of women empowerment. She extended her thanks to President Weah for his support in relations to her award. She thanked everyone who has believed in her and stood by her through the years.
"I dedicate this award to my dear mother, Mrs. Nora Kpukuyou, the strong and resilient market women of Liberia who are the true definition of strength," Ms. Kpukuyou
She extended her appreciation to the publisher/CEO of Africa Leadership Magazine, Dr. Ken Giami and the Africa Leadership Magazine family for bestowing on her such an honor.
She assured those in attendance that her award would be used as a symbol for the youth of Liberia to know that it is possible to achieve their goals in whatever positive venture they are passionate about.
The keynote speaker at the award ceremony, Gambian Tourism and Culture Minister Hamat N.K. Bah called on electorates in Africa to stand up and challenge elected officials to work on their behalf.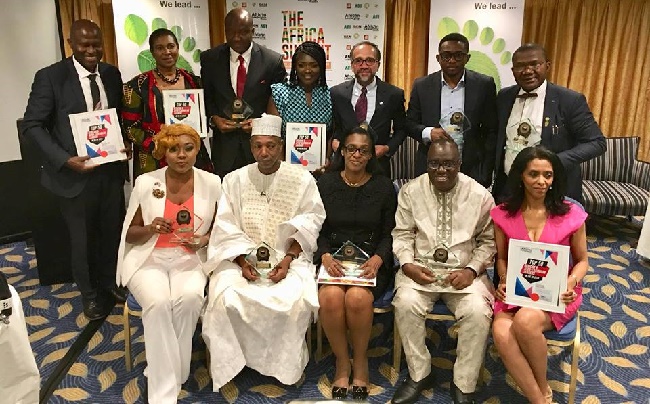 He said African leaders often hold the perception they were elected to be served rather than serve. "When we are elected by our people, we should be their servants", he emphasized. Minister Bah frowned on African leaders who ascend to power and promising one year but impose themselves for a life time.
He blasted corrupt officials who exploit their country's economy by stealing from their people.
"Many public officials in Africa often ascend to power and retire as very wealthy individuals leaving their people in deep poverty and misery," he said.
He called on governments to create avenues of post-service sustainability for serving officials of government when their tenures are over.
"Give them guarantees as mains of survival in order to minimize and avoid temptation for corruption. In all modern democracies in the world, when people leave office, they need to be guaranteed a future. When you leave office, you need to be paid, given salaries and benefits in order to maintain the dignity of the office that you left," the Gambian Minister elaborated. He said such a measure would reduce the temptation of embezzlement.
He called on the media to scrutinize, challenge and hold public officials to account by telling them when they are right and when they are wrong.
In relations to the effects of the private sector businesses on the functions of government, the Gambian minister said the private sector has a role to play in governance in making sure that those in office are not corrupted.
He emphasized that "in fulfilling your corporate responsibilities and maximizing profits, you go all the way in breaking norms, tendencies and values, and again you create an atmosphere that when developed, destroys institutions like the police, judiciary and all those institutions that strengthen governance."
"If governments are corrupted by greedy businessmen overambitious about profit, then it's not fair. I think we need to go back to the drawing board. If officials of government want to corrupt you (businessmen), it is your responsibility not to accept. We talk about corruption in government but I think the private sector in wanting to maximize profits brings a lot of harm to the society", he emphasized.
Addressing the flight of young Gambians losing their lives in risky voyages across the Mediterranean Sea, Minister Bah said Gambians formed a huge percentage of African migrants who risked their lives in search of better lives in Europe. Many of these trips have ended in deaths.
He said African governments have the responsibility to create jobs and invest in their youth capacity with the aim of improving their lives.
"Since his ascendance to power, Gambian President Adama Barrow has made strides in providing youth opportunities and making youth development its priority. This move has reduced the number of Gambians fleeing the country in search of better lives by 80 percent.
Those attending the program also added their voices in an interactive forum. Highlights included the participation of women in politics and the high taxation levied against goods shipped by citizens in the diaspora to markets back home. Those tariffs, according to the participants, are not necessarily paid by multinational investment in African countries because of the huge bribes received by public officials.
Other honorees included BBC presenter Zeinab Badawi, Gambia Minister of Tourism and Culture Hamat N.K. Bah and Ivory Coast's Minister of Transportation from the Republic of Ivory Coast Amadou Kone,
Others were Henry Saamoi, CEO, International Bank, Liberia, Peter Cole Choiri, CEO, Ocean Glory Commodities Ltd. Nigeria, Alistair Soyode, Chairman, Ben TV, UK and Kwadwo Owusu Afriyie, Chief Executive, Forestry Commission, Ghana.
Douglas Farngalo