Women group ends anti-rape campaign in central Liberia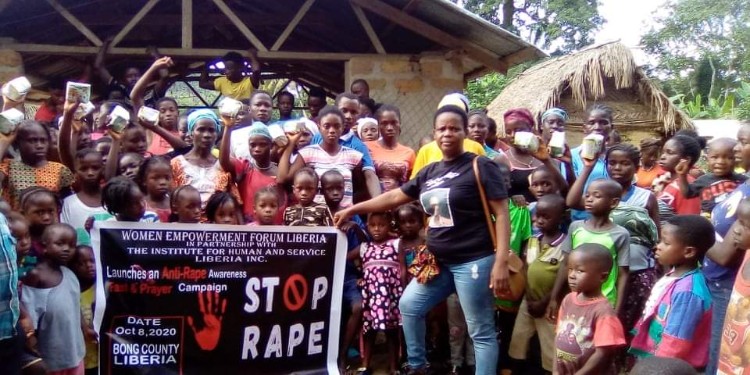 Women Empowerment Forum Liberia ended its anti-rape awareness campaign recently with a program in the central part of the West African country.
Under the theme, Knowing The Danger of Rape, the program was held in Gbanquelleh Town located in the Sanoyea district of Bong County and was attended by people from the town and other areas in the district.
Laura Bee-Kiekpo, the head of the organization, said "at the awareness, we sensitize the people about good family living, the evil in domestic violence, especially men beating their wives and children, and, importantly, the dangers of rape. Free reusable menstrual pads were distributed to teenagers and young women."
Her group and residents of the town reached an agreement to assign a focus person called a Women-Liberia SGBV ambassador to report all sexual gender-based violence cases and follow the referral pathway for rape cases, she added.
"The people were very receptive to all our teachings. Gbanquelleh town is a town that is not more than 30 minutes motorcycle ride from Totota, Bong County but this town doesn't have a school and clinic.
"Students we support there meet under a palava hut that was built by former representative Madam Gorpu Barclay which is very small for the student population there.
"When a woman is sick or in labor, they are taken to Totota, where a clinic is located.
"We are calling on anyone who sees the need to help us build a school.
The awareness campaign was done in collaboration with The Institute for Human and Service (TIHS) and Rev. Samuel Gbarwee empowerment team, SAMBLET- LIBERIA.
The campaign was carried out in three counties: Grand Bassa, Nimba and Bong.