Lawyers display seized weapons in court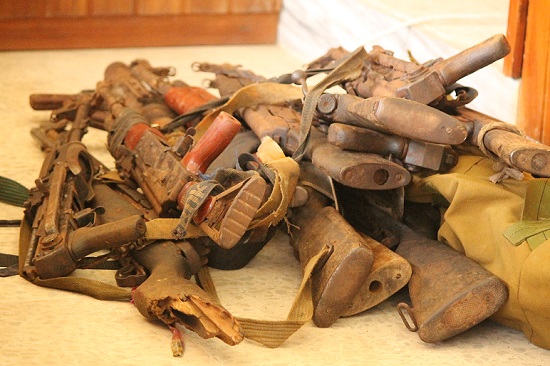 Liberian government lawyers last week presented a consignment of weapons in open court as evidence in their case against 18 Liberians on trial for cross-border attacks into neighboring Ivory Coast in 2011 and 2012.
Of the 18 weapons presented in court, the lawyers said five belonged to the seven dead UN peacekeepers, killed as a result of those attacks which came after violence flared up following the Ivorian elections.
Police senior investigator Alfred Quire, who was earlier rejected by defense lawyers not to give evidence because he had prior knowledge on the case, identified peacekeepers' weapons.
"The weapons were discovered in the Gaoleo forest in Grand Gedeh County, Liberia where the accused men hid them", the police senior officer told the court.
Since the trial opened at the Criminal Court 'D' the court has admitted about 20 documents and materials as evidence from the state lawyers.
The defendants were indicted in 2011 and 2012 on multiple offences ranging from mercenarism, murder, rape, arson to theft of property. The six-page indictment said that the defendants in concert with others participated n the post-elections violence of December 2010. The accused denied all the charges.
Text & photo: Peter N. Toby