Liberian veep says rule of law essential for peace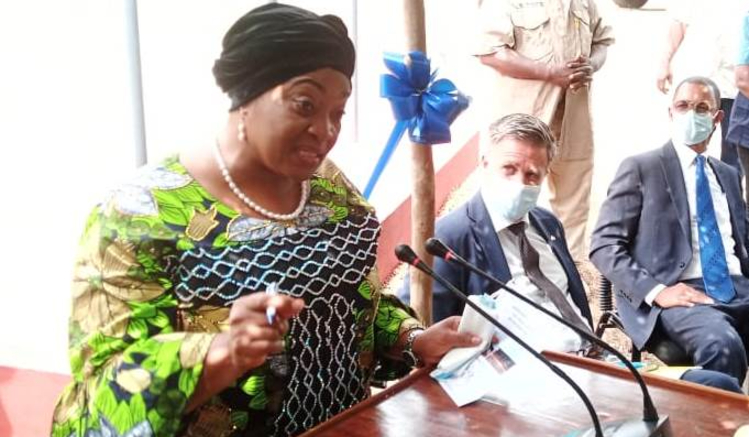 Liberia's Vice President Jewel Howard-Taylor says the rule of law is the panacea to sustainable peace in any given society.
Howard-Taylor said that there can be no sustainable development without sustained peace, adding that "the Weah-led government remains committed to sustaining the peace through an independent and professional justice system."
According to a press release, she spoke last Thursday at the dedication of the Botota Magisterial Court of the 9th Judicial Circuit in Bong County.
Dr. Howard-Taylor particularly thanked Chief Justice Francis S. Korkpor and international partners, including the Swedish Government, for the construction project, ensuring access to justice for people in that rural part of the West African country.
She then frowned on some Liberian building constructors who are constantly defrauding on contracts awarded them.
Her comment followed an earlier statement by Chief Justice Korkpor that the construction of the court was delayed due to defrauding on the part of a Liberian contractor who was awarded the contract.
The veep noted that establishing a corruption court would address many of these corrupt acts exhibited against the state and individuals.
She justified that a corruption court was necessary in Liberia, especially at the time when anti-graft entities were gathering pieces of evidence on most of these cases of corruption.
Meanwhile, Vice President Howard-Taylor has asked the Judiciary under its training component to consider the training of electoral magistrates across the country.
Speaking earlier at the program, Chief Justice Korkpor asserted that it was hurtful for the Judiciary to be often branded as corrupt but quickly pointed out that the judiciary is not as evil as being perceived.
The Chief Justice admonished those charged with administering justice to refrain from acts that are inimical to their status.
On the construction of the magisterial court, Chief Justice Korpor lauded UNDP and the Swedish government for the commitment fulfilled.    
He disclosed that the magisterial court construction project targets the remotest parts of Montserado, Nimba, Bong, and Lofa counties.
According to Chief Justice Korkpor, the court equalizes everyone adding that such access to justice would be effectively ensured by the court in these earmarked counties.
A representative of UNDP-Liberia and the Swedish Ambassador to Liberia graced and made remarks at the occasion.
Liberia's judicial branch implemented the project while Sweden, in collaboration with the UNDP-Liberia, provided the funds.