Nobel laureate Mukwege to speak at event in Linköping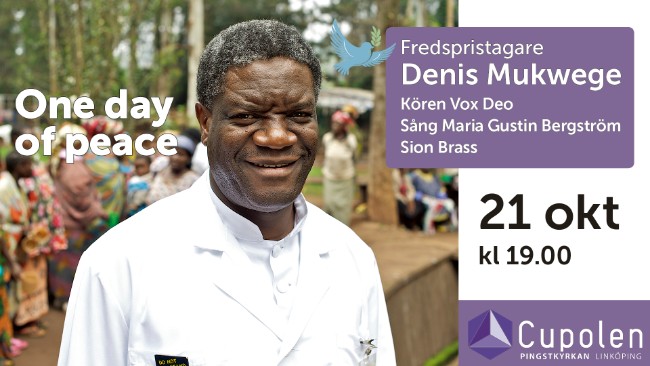 Nobel Peace Prize Winner Denis Mukwege will on Monday, October 21 speak at the Pentecostal Church in the Swedish city of Linköping during a charity event under the theme, One Day of Peace.
Dr. Mukwege, who is also a Pentecostal priest received the Nobel Peace Prize in 2018 for his work for raped and mutilated women in war in the Democratic Republic of Congo.
One Day of Peace is organized by the church in collaboration with Mission Aviation Fellowship (MAF), Läkarmission and PMU. The event begins at 19:00.
"We dream of real peace, one day of peace, and we know that Linköping has the resources and know-how that can help make the world a little better place to live," according to information released by the organizers.
In addition to
Dr. Mukwege
, the audience will be entertained by the choir group Vox Deo, Sion Brass and singer Maria Gustin Bergström.
Other invited guests include Governor Carl Fredrik Graf, specialist physician David Ekqvist, Divine Blessing, a victim of the Congo war, Lars Arrhenius of Läkarmission and David Norlander of MAF.
Meanwhile, a short version of a film on the Congolese doctor's work will be shown at the church on Wednesday, October 16, beginning at 19:00. The Man who Mends Women is a film about Dr. Mukwege's work with women who are victims of sexual violence.